Some people aspire to live in a tiny house because they think it's cute, or because it fits in with a philosophy of eco-friendly minimalism. Inne and Vincent are a Belgian couple who chose to live small because that's what they can afford, and when it came time to move into their small A-frame, they had their doubts. What if it was too small them, their possessions, and their new puppy to live comfortably?  While the Belgian couple plans to move out of their miniscule rebuilt A-frame as soon as they have enough money to build something bigger, though they were surprised at how much space a little A-frame like this offers.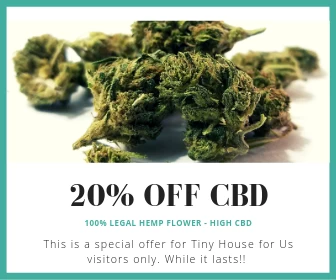 They bought the building from another couple who'd also been living there temporarily, but found it in such bad condition that they needed to completely disassemble it and put it back together with reclaimed materials to replace the damaged components. That process took about two months, but Inne and Vincent joined many other tiny house builders in finding that friends and family were more than willing to lend a hand.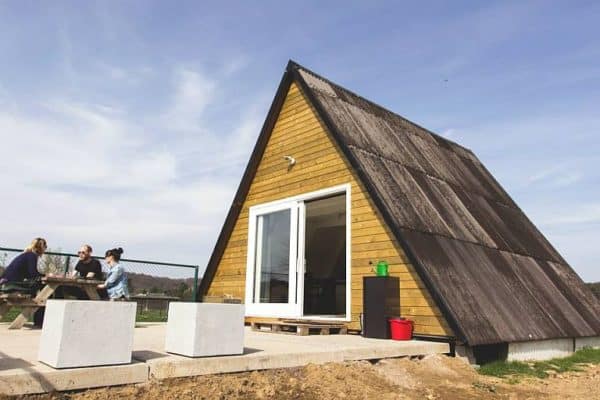 Inne, who's a recent transplant to Leuven, also found that the tiny house they call the Tipi was a great way to get to know her new neighbors. She and Vincent have become instantly recognizable as "the couple who live in the Tipi", and people are always stopping by to find out more about the house. As Inne says, tiny house living is "a very 'social' way of living".
The stairs leading to the loft bedroom definitely help save space, but might pose a challenge after a few adult beverages.
But in the end, they found they had a lot of things they didn't really need. They found there was room for Inne to sew and Vincent to play the guitar and Hank, their little Dachshund, to curl up between them. They found it took almost no time to clean the place, and they didn't have to get up to grab a beer from the fridge.
The pair's biggest complaint is that the A-frame, especially the loft sleeping area, gets awfully hot in the summer. They tried an air conditioner that a friend gave them, but discovered it was too noisy and cold to work well in the small space. Fortunately the Belgian summer isn't particularly severe, so that only amounts to a few weeks of discomfort.
Photos courtesy Inne Van Engeland
In fact, Inne and Vincent find living in their tiny space pleasant enough, and are now happy to stay in the Tipi for a while longer while they plan and save for a bigger place. And when they're ready to build it, they expect that the lessons they learned putting this one back together will hep them in future building efforts. We wish them all the best, as they only have a five-year permit for the structure before the city of Leuven evicts them.