Hot on the heels of their Rusted Mountain Roost comes a new build from Rocky Mountain Tiny Houses, the Red Mountain 34. It's not actually as red as the Roost: although it does have a wainscoting of rusty corrugated steel surrounding the exterior, it's also got reclaimed barn wood and cedar shakes up top. The name comes instead from a trio of Colorado mountains and the length. That makes it a fairly large THOW to begin with, and two huge lofts increase the total floor area even further to a park-model-like 410 square feet. It's still just eight feet wide, though, so highway use will be relatively hassle free.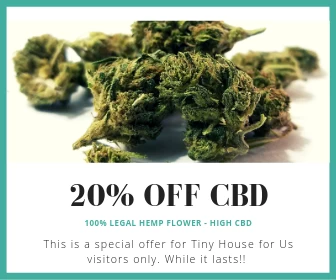 Walking over a fold-out porch to the covered entryway, you step inside to find a home office/study cubicle on your left, but the rest of the lengthy interior is divided functionally rather than physically till you get to the bathroom at the far end. It flows seamlessly from a cozy living area with a comfy couch opposite a woodstove, past the dining table, and into the kitchen-cum-laundry-room (in addition to a full-size fridge, stove and sink, it's also got a washing machine and a dryer stacked on top of each other). The spacious full-width bathroom is very nicely finished with tiled accents, a claw-foot tub, and a custom basin sink. The toilet's a flush model, as the Red Mountain 34 has RV-style utility connections.
If you want to take a look at the top level, you can get there either via storage stairs or by a sort of storage ladder that's also a bookcase. The stairs go to what's designated as the master bedroom, the ladder to the children's room, but the distinction's kind of arbitrary: both lofts are easily big enough to hold king beds and lots of storage cabinets.
We've always liked Greg Parham's work (Rocky Mountain Tiny Houses took the #3 spot on our top 10 list of tiny house builders), but for the seemingly effortless blend of aesthetics, space and functionality the Red Mountain 34 is undoubtedly our favorite RMTH house to date. Wouldn't you know it, it's also the most expensive, at approximately $105,000 – that's $20K more than the Rusted Mountain Roost and nearly triple the price of the (much smaller and simpler) Front Range. Greg says that's due more to labor costs than materials – the Red Mountain 34 took him and his crew longer to finish than any previous build.
Photos via Rocky Mountain Tiny Houses | h/t New Atlas