Rich Daniels (of Rich's Portable Cabins in Oregon) has done big, he's done small, and now he's done something that's kind of either/or: a THOW whose push-out sections take it from 8 to 13 feet in width when it's parked. That gives 232 square feet of interior space in only 25 feet of interior length, and Rich's design has several less obvious benefits as well. For one, he's managed to keep the floor flush between the push-outs and the central area, so rearranging furniture between them is much easier than with conventional slide-outs. For another, the pushing out is completely manual. That does take some muscle, but undoubtedly saves on cost, and apparently weight – even with a six-foot covered porch extension, the whole house weighs in at a svelte 8,900 pounds.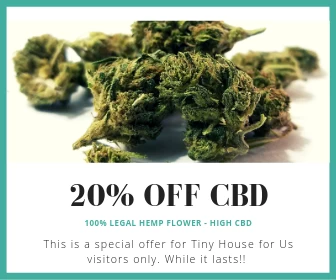 It's probably not something you'd want to do on a daily basis, so Rich says this house isn't ideal for frequent travelers. But it's certainly a nice compromise for people who want a little extra room without sacrificing the ability to hit the road at a moment's notice.
When it is time to up stakes, you won't need a wide-load permit – or a huge truck to haul the house.
As you'd expect, there's a really large living room. You could fit a king bed in it and use it for a bedroom as well, or you could save the space and sleep up in the small loft. The kitchen, featuring a hooded 20-inch gas range, medium gas/electric fridge and laundry area, is more than adequate, and there's also a comfortable bathroom with a sink, flush toilet, and 3×4 shower stall.
Find full specs at Rich's page: http://richsportablecabins.com/8-wide-push-out/.
h/t Tiny House Talk
Images © Rich's Portable Cabins