The last metal-sided Rocky Mountain Tiny Houses build we profiled, the Bayfield, was still an unremarkable steel-grey when we saw it, just beginning its natural progression to rusty perfection. Greg Parham's latest, the Rusted Mountain Roost, comes pre-rusted with hydrogen peroxide, and it must be giving the Bayfield owner something to look forward to. It's a deep, rich red-orange-brown that would be next to impossible to replicate with paint, and it gives a beautiful contrast with the bright blue roof and doors.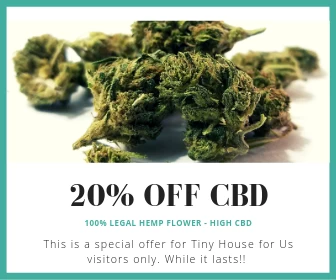 And the interior of the 312-square-foot THOW, which Greg built from the client's drawings, is just as distinctive. At the back end it has a triangular kitchen (reminiscent of the one in the Evans shipping container, but bigger and featuring a washer/dryer as well as kitchen appliances) under a traditional sleeping loft. In the middle is a sofa and a wall-mounted flat screen TV, but no room for much else as you bump up against the bathroom wall pretty quickly. The bathroom's not that large either, but perfectly adequate and well finished, with a glass shower stall, sink, cabinet and toilet sharing the area nicely. The rest of the space has been saved for the master bedroom, which you reach by climbing storage stairs through a hallway next to the bathroom. It fits a king bed and a fully functional closet and has plenty of headroom – as in, you can not only sit up without bumping your head, you can actually stand up and walk around!
The Rusted Mountain Roost was built with structural insulated panels (SIPs) and has RV-style utility connections and a ductless mini-split system for climate control. Total price was $84,000.
h/t New Atlas