Tiny House Nation viewers may remember the Watertown, a 24-foot rustic-modern THOW built by Wishbone Tiny Homes for a Wisconsin farm couple. Highlights included a custom bike rack that dropped down from the ceiling, a built-in dog kennel under a lounge platform standing in for a sofa, a teak ofuro soaking tub, a big bedroom loft bursting with windows and skylights, decorative metalwork in the kitchen, and gorgeous natural wood throughout.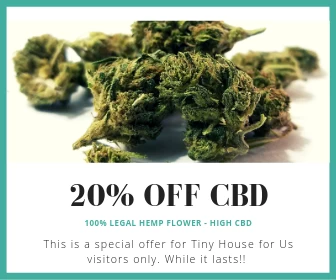 The show aired in July of 2016, and owners Sarah and Tabatha spent about a year in the Watertown before listing it for sale in September 2017. They've just dropped the price from $69,437 to $57,000, so this is a great opportunity to pick up a beautifully crafted Wishbone at an excellent value.
If you're not in the market, it's a great opportunity to see how well a high-quality tiny house holds up after a year of gentle use. Compare the just-built photos from Tiny House Nation's article on the Watertown with those below from the sales listing to appreciate how nicely the wood has weathered.