When Seattle passed a new ordinance allowing backyard cottages in single-family-zoned lots, Kate Lichtenstein set to work building what might be our new favorite tiny house. Technically it's an accessory dwelling unit built by Tim Hammer of CAST Architecture. Tucked in the backyard of Kate's property, it was constructed using recycled materials and reclaimed fir structural beams. It wins big on style points thanks to a well-thought out layout and a perfect blend of rustic design elements. Plus it represents one of the most eco-friendly homes we've seen.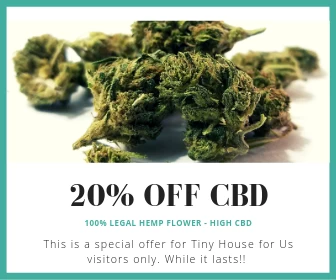 Tim brings a keen eye for designing small spaces like this, as he spent 18 months in Kobe, Japan where he studied high-density housing. He tells Seattle Mag, "The craft of small space design is: How do you make it feel open, comfortable and airy, and not claustrophobic?", a hypothetical questions because it seems like he knows the answer. At 550 square feet this build has just enough space to remain compact yet retains an open and spacious feeling, with well defined areas where a small family can relax without feeling cramped.
It also brings with it some serious eco-cred, thanks to a 5-star Built Green designation. With extensive use of salvaged materials in the build, a durable metal roof, and efficient water boiler, and insulation from recycled blue jeans. 
Big french doors swing open to let in the fresh air and make the living room feel a bit larger.
A full-size bathroom was a must, and they pulled it off with ease. It includes a bathtub found on Craigslist and separate shower that  that drains through the floor.
The stairs were built from old bowling lane planks, and the banister was also salvaged from an electrical conduit. It cost a whopping $1.65.
Upstairs you'll find a lofted sleeping area and a small workspace. Notice the rustic lights hanging from the support beam, a nice design touch we love.
Sliding doors separate the living room and kitchen area on the first floor.
A full kitchen has all the bells and whistles, with LED lighting, stainless appliances and a nice island for prepping and entertaining. The raw concrete flooring is made from fly-ash concrete, a byproduct of burning coal.