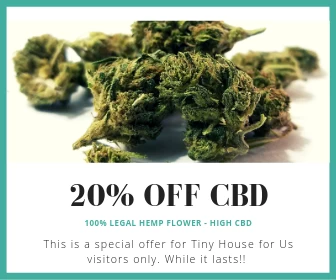 Here's a tiny vacation cottage designed by Mark Ouellette of West Coast Homes. At 400 square feet (not including up to 250 square feet of loft space) plus a covered porch and outbuilding, it has plenty of room for a family getaway, and uses less energy and needs less maintenance than a larger house. We love the use of space here, with the large deck that makes for a great hangout spot, plus the optional roof deck which offers another place to post up and enjoy the natural surroundings. You could host a pretty good party in this little house!
The one in these pictures is located at the Wildwood Lakefront Cottages resort in Sedro-Woolley, Washington state. This little cottage community currently has three different models for sale, each with a distinctive style. Prices are kind of steep at $299,900 to $370K, although that includes a parcel of land near the lake. I assume the price is largely due to the location, but regardless it's not exactly cheap.
However, if you're interested in buying a San Juan cottage, it's available from $125,000 – you just need to find a plot of land for it. West Coast Homes has several other models to choose from as well, all fully customizable to your requirements.