Shannon Black's change of heart could be your golden opportunity to move into a brand-new, custom-designed, well-built and very high-end tiny house. Shannon built this 300-square-foot cedar-sided THOW with every intention of moving in, but has now decided to create another tiny home and put this one on the market for $69,500. This was Shannon's first tiny, but the Seattle resident had built one full-size house beforehand. The experience shows, as does an elegant eye for design.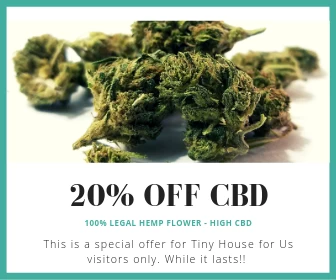 The sturdy timber-framed house is held together and to its 26-foot Iron Eagle trailer by Simpson Strong-Tie® connectors. It's sheathed in honest plywood and topped by a Pro-Panel® metal roof with a 45-year warranty. Roxul® mineral wool insulation gives R-15 for the walls and R-23 for the floor and roof. Interior walls and ceiling are tongue-and-groove pine. The house is fully plumbed and wired, with a dual flush toilet, washer/dryer hookups, a 30-amp circuit breaker panel and plenty of USB outlets.
Interior finish and fixtures are more than a match for the structural quality. Appliances include an on-demand water heater and a stainless-steel oven, both propane powered, as well as a Frigidaire 10-cubic-foot refrigerator/freezer. The house comes with a queen mattress and a similarly sized sofa bed. And there's plenty of room everywhere: a 40-square-foot bathroom holds a 36-inch shower stall, and the kitchen has 14 feet of quartz countertops under its eye-catching accent wall.
2018 update: Shannon has gone into business as Big Freedom Tiny Homes.
h/t Tiny House Talk