Granted, if you owned 3½ acres of property overlooking Orcas Island's beautiful East Sound, you might not really want to go anywhere else. But now you can – own it and leave it in the comfort of your own home – with an unusual THOW-and-lot combination for sale at $349,000 through Orcas Island Realty. The THOW in question is a 20-footer with a vardo-style curved roof manufactured in 2016 by Shibui Woodworking of Banks, Oregon. It appears to be their first build, and it looks outstanding!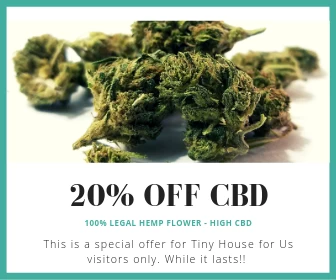 Mixed cedar siding under the standing seam metal roof makes for an exterior that almost competes with the view behind it.
With a forest of tall trees and not a neighbor in sight, the view on the other side's not half bad either, and as you can see the property comes with a tiger wood deck and a shed as well.
We've kvetched about prices in the San Juan Islands more than once, but with scenery like this and the fact that a high-quality custom THOW alone runs around $75K these days, $350K for the combo actually seems kind of reasonable… are we just getting jaded?
The woodwork inside of the house is a really nice blend of alder and Brazilian cherry in contrasting orientations.
Check out the detail on the Douglas fir tansu stairs – that's some skillful cabinetmaking!
Located directly across from the kitchen counter and under the loft, the bathroom is on the small side, but it does manage to hold a toilet, a shower, and a very nice Italian tile floor.
h/t Curbed