Famous for its fine, white quartz sand, Siesta Beach in Sarasota, Florida, has often been ranked number one in the whole USA – and sometimes in the whole world – so as beach vacations go you could do a lot worse. And when it comes to beach houses, you could do a lot worse than this brand new THOW located a short walk from the Siesta Key shore. You can book through VRBO at an average of $143/night.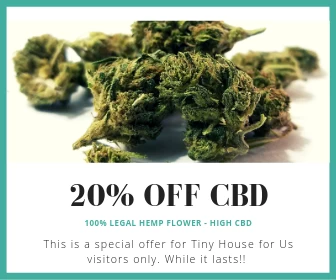 Known as the Amy, it's located in a first-of-its-kind tiny home beach park. Shade trees and an LG air conditioner should keep things cool enough through the summer.
The place is agreeably bright inside, with a small sitting area and an unusually capable kitchen for a short-term rental unit. You can see the big sink and fridge; just outside of the frame there's an oven with stovetop, microwave, toaster and coffeemaker.
Tucked behind the stairs to the loft, the bathroom is also quite spacious, with huge mirrors and an interesting angular design for the vanity and shower stall.
A full staircase makes it easy to reach the loft, which barely contains the large bed.
A private paved patio next to the Amy hosts a table and chairs for outdoor dinner or drinks.
h/t Tiny House Talk
2018 update: Amy has been joined by nine tiny friends at what's now known as Tiny House Siesta.