By day, Andy Bergin-Sperry was framing houses for Method Homes of Bellingham, Washington. When he got off the clock, he would raid the company's scrap pile for materials and get to work on his own tiny house on wheels. Andy, an avid snowboarder, wanted a comfortable place to sleep while traveling the slopes during the off-season, and it sure looks like he got it in this 14½-foot, 5,200-pound THOW.
It's a compact box with one corner cut out for streamlining, and while it has some beautiful cedar siding, it looks even better inside. Method Homes' scrap pile must have been a real treasure trove, because Andy was able to outfit the interior with a lot of really nice looking lumber: bamboo for the floor, hemlock for the walls, birch plywood for the ceiling, and zebrawood for the fold-out dining table. He was also lucky to have an artistic friend, Eric Hedberg, who contributed a lovely mural for the bedside wall.
There's no running water, and no bathroom, but Andy will be able to do a little cooking in the kitchenette, which includes a double sink and a small fridge under the counter. With a a ridged foam floor and R-30 insulation in the walls and ceiling, he'll also be able to stay plenty warm once he's ready to take a break from the slopes.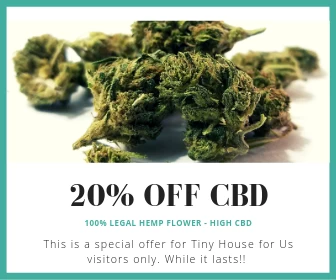 Exterior photo credit: Tim Zimmerman. Interior photo credits: Dylan Hallet.
For more tiny living snowboarders, check out our articles on Mike Basich's cabin and Brock Butterfield's bus.
h/t Tiny Living