For sale in southwestern Wisconsin, this tiny house is advertised for "debt-free living", and at a base price of $14,500 it does actually cost less than most new cars. Of course, given that it's completely off-grid, a buyer would probably want to get the optional solar electrical system and direct-current refrigerator as well. That adds to the price, resulting in a whopping total of . . . well, $20,500. Still less than a lot of cars, and still a lot less than a standard house.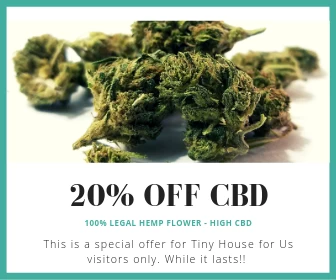 For the money, you get a 180-square-foot house with an amazing 13½-foot ceiling that leaves ample space for sleeping and storage lofts. Eight double-paned windows expand the feeling of space; they include two in the sleeping area and a large picture window over the cushioned bench in the living area. (Aside from acting as a sofa, the bench is big enough to provide an extra sleeping option.)
The kitchen is a lot more than you'd expect from a house this size, with wide countertops, a plethora of shelves and racks, a pullout pantry from Ikea, a dry-plumbed double sink, a four-burner stovetop and even an oven complete with a hood and vent. The bathroom is a little less elaborate – a composting toilet and no running water.
Heat is provided by an Intrepid II wood stove set up with an outside air intake, and a backup propane heater is included in the purchase price. R19 rigid foam insulation throughout ensures that the heat stays inside; even the doors are insulated.
When you come into the warmth from a cold winter day you can leave your coat, hat, gloves and boots in a tiny mud room that's separated from the rest of the interior. Inside are a full closet, built-in bookshelf, and extra storage space under the stairs. It's all clad in wood salvaged from an old barn and finished with all-natural linseed oil, giving it a rustic yet elegant look.
Although the house is off-grid, a lot of thought and work has gone into the electrical system. There are light fixtures and electrical outlets everywhere, and even a ceiling fan. The 735-watt solar system gives enough power to run that fan, as well as a 15-cubic-foot Sundanzer DC refrigerator, TV and computer. It's connected to a 24-volt bank of flooded lead acid batteries to keep the current flowing at night and on cloudy days, and a tri-metric monitor to let you know how quickly you're using electricity and how much you've got left.
The house is on wheels, so it can be relocated, although the owner doesn't recommend moving it frequently. If it ends up somewhere closer to civilization it would be possible to connect it to the electrical grid, which is why the solar system is optional. More pictures of it here.