Here's a 20-foot THOW that's appealing on first glance, worth a second look when you notice the price tag is just $35,000 – and downright intriguing when you learn a little more about it. The just-finished Starlighter1 is the first home from Bob "Hotrod" Rohr's new company ShowMe Tiny Homes. ShowMe is located, where else, in Missouri, but Hotrod says he built his first tiny house in Whitefish, Montana, way back in 1983. Since then, he's become a world-renowned thermal, solar and hydronics expert, and he's put his knowledge to good use in the Starlighter1, which has heated floors and walls thanks to a Roth Radiant Panel System, as well as two Kyocera 120-watt photovoltaic modules feeding a 110 amp-hour deep-cycle battery and a number of 12-volt DC outlets. See the ShowMe webpage to find the full spec sheet (containing loads of other goodies you'd never expect to find in a $35K house), but first get a feel for the floor plan with these photos: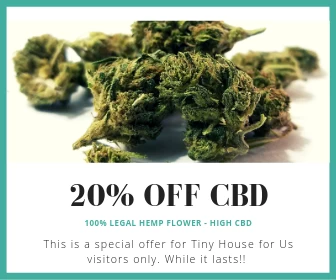 This is (obviously) the kitchen, and less obviously the bedroom: The plywood panel at the far end folds down to reveal a twin murphy bed. The kitchen area boasts 70 inches of granite countertop, a 2-burner infrared stove, and a 9.9 cubic foot fridge.
The five foot long, 32 inch deep closet opposite can hold plenty of clothes, even if they do have to share space with a mess of utilities.
On the other side of that there's a table for two…
…or a couch, or another bed, depending on what you need at the moment.
You can watch TV from there, and you can straighten your hat in the full-length mirror before heading out the door.
Head the other way and you step into the bathroom, which has a flush toilet…
…and a 32-inch fiberglass shower stall, but is too skinny to fit a sink.