Just when you think you've found your favorite tiny house design, something like this comes along and raises the bar another notch. It's great to see what others are doing with small space design, and this might be the first time we've seen a full-blown sauna built into a tiny home. Described as a sort of "glamping bed and breakfast", the Hope Cottage is located in La Conner, Washington, and was built to offer visitors a cozy place to escape it all.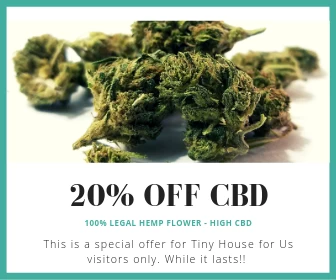 They managed to include all the normal luxuries you'd expect in a home; there's a usable kitchen space, comfortable living area, roomy sleeping loft, and a full bathroom with shower, toilet, and of course a gorgeous FAR infrared sauna enclosed in glass and wood. There's even a BOSE soundsystem, wi-fi, and a tv with Chromecast.
As if the sauna weren't enough, they managed to fit a shower in the bathroom too! The cedar bench doubles as a watertight storage container.
They opted for stairs to the loft, making it more accessible for people of all ages and abilities. The stairs also provide plenty of extra storage.
The Hope Cottage in its natural evergreen setting, with a garden shed right behind it.
"While we did try to maximize space in our tiny house, we still made sure to have a warm relaxing space to revitalize and detox."
Built with an eye for design and high quality materials, the Hope Cottage benefits from tall ceilings, plenty of windows, and other amenities that make living in a small space feel like less of a trade off and more like a trade up.