This may be the largest tiny house on wheels we've seen, and it's packed with great design features, including two lofts, a murphy bed, stairs and tons of storage. Built by Rocky Mountain Tiny Homes, a builder with plenty of experience, this home was just delivered to a family of three from Texas. With 197 square feet on the main floor and another 100 square feet in loft space, it offers a good amount of room to stretch out. While it might fall on the higher end of the price spectrum at around $70k, we think it offers a lot for the money.  After all, you have the ability to take a gorgeous home like this anywhere you want – from spending a winter in Jackson Hole to a summer in Santa Barbara, the freedom that comes with it may be priceless in itself.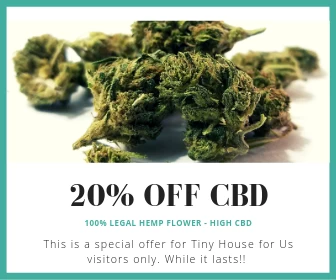 Let's take a closer look at this home, shall we?
Here you see the overall design, which is large compared to most tiny houses on wheels. It requires a 15,000# rated trailer with three axles, and the house itself tips in at a very reasonable 12k lbs. The design itself could be called a mix of gingerbread traditional and rustic modern, and you'll notice a lot of really clever design elements throughout.
The kitchen area includes a full stove and stainless appliances, including the refrigerator. Notice how the sink can be covered with a piece of wood that blends seamlessly into the countertop, offering more workspace for dinner prep. Open shelving makes it feel roomy and reduces clutter as well. To the right of the kitchen you can see one of the staircases leading to the loft, with storage space under each step, and gorgeous beetle-kill wood used for each step surface. That lovely blue-tinted beetle kill wood makes up most of the wood used for the interior. There's also a Yodel woodstove, the smallest model they make, and it provides ample heat throughout the entire space.
A small downstairs bedroom makes use of a fold-down murphy bed, helping to maximize space.
Another neat feature shown here is the sitting area, with plenty of windows on all sides. One of the seats actually comes unhinged and quickly converts into a table. Space saving ideas like this really make the most of small spaces and increase the functionality.
This curved overhang above the door is a great example of the kind of detail we love. Although not shown in the pictures, you can see some other incredible detail in the cabinets, which were made from cherry wood and Greg found nice sheets of copper to include on the front of each.
The main loft area provides ample space, enough for a king size bed, and you'll notice the unique "hips and valleys" in the ceiling, which adds to the unique appearance. There's a second loft directly across from the main one, which makes for a total of three sleeping areas when you include the downstairs bedroom.
The bathroom actually includes a very stylish and tiny clawfoot bathtub, which can be run as a tub or shower. A small laundry room attached to the bathroom includes an LG washer/dryer combo, which combines both functions into one space-saving appliance.
There's a lot more to see in this build than appears in the photos, so check out the video for a full walkthrough with Greg, the builder. We think you'll be pretty impressed. For more information about this home, check out their website or visit them on Facebook.