Dave and Kristen Edge had only been married for three months when they set about building a tiny house on wheels. That was in August of last year, and they're now almost finished with the project. While it took longer than they thought it would (Dave didn't have any construction experience and Kristen wasn't able to help out that often because of her teaching job), they're very happy with how it's turning out. And judging by the looks of things, who wouldn't be?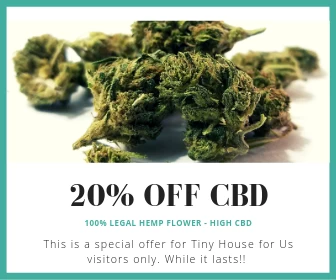 They started off with a 32-foot trailer from a decommissioned mobile home but decided they didn't need that big of a house and so opted for a 9-foot deck and just 176 square feet of space inside. They scoured Craigslist ads to find reclaimed timber like cedar and redwood fencing for the siding, and scored secondhand fixtures and appliances from Habitat for Humanity ReStore. The siding looks excellent, and by their estimate it only cost about $280 for the lumber, screws, and corrugated metal.
Passive solar heating together with mineral wool, cellulose and foam board insulation keeps the place well insulated, but that's the sustainability doesn't end there. Four solar panels totaling 1120 watts feed power into eight batteries that make 11 kWh, providing enough power to cover all electrical needs as long as it's not cloudy for longer than three days in a row. Water is brought on board every few days and stored in a 15-gallon Well-X-Trol pressure tank, but the Sun-Mar Excel composting toilet doesn't use a drop.
Aside from the eco-friendly aspects, the Edges' house is very healthy. It's completely chemical-free except for some polyurethane in places where the wood is exposed to moisture, and they were even able to obtain a non-flame-retardant mattress thanks to a doctor's note. Best of all, they tracked all their expenses so far and the current total is just over $10k – not bad at all when you look at what they accomplished.
2017 update: Six months after publication of this article, their total expenses had gone up to $17,000 – but they still made a healthy profit when they later sold the house to the Wild and Radish eco-village for $34,500!