It's taken them a couple of years to find their footing, but The Tiny House Company may finally have their breakout model in the newly re-branded Swallowtail. The Brisbane firm's first house was the 2016 Portal, an airy place which featured a remote controlled bed and a huge detachable deck – and a rather unrealistic price tag stretching well into six figures. Their current set of modular designs (there's a shell and a studio unit in addition to the fully-featured Swallowtail) wisely pays a little more attention to affordability, but doesn't leave the original concept or the innovation behind entirely. There's no deck, fewer windows, and the bed doesn't go up and down, but you still get a ground-floor living/sleeping area and space for working, cooking and eating along the walls. In some ways, in fact, the Swallowtail offers more than the Portal; it's got a more functional loft and more free space for later add-ons according to needs and budget. And with a base price of just $79,000 – about $61,000 in American money – we're betting that a lot more people are going to take that offer.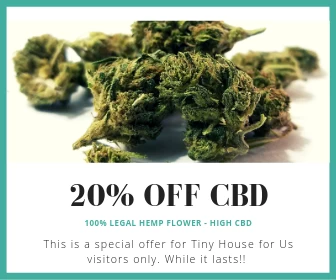 The approximately 24-foot house has a butterfly roof from which it takes its name.
The corrugated sheet metal and textured ply cladding of the exterior are rated to stand up to cyclone-force winds.
The sofa and a small work area are built in, but there's space for your choice of furniture between them.
The kitchen cabinets are based on IKEA's modular system and can thus be expanded and upgraded with ease.
The bathroom has all the basics, all in white, plus a classy glass door for the shower.
Not into books? The Tiny House Company has left space to hang a TV on the wall, and the Swallowtail comes pre-wired for an antenna.
The sofa expands into a bed, so you can sleep downstairs.
Loft access is via a retractable drop-down ladder.