The Zaunbrecher is the first build from the Louisiana firm Tee Tiny Houses. Founded just last year, Tee Tiny seems to have hit the ground running; besides this 24-foot THOW, they already have four additional designs available (with extensive customization options), all to be built in their own 15,000-square-foot factory. The Zaunbrecher is designed as a modern full-time residence for one or two people, with all the amenities that entails. Tee Tiny has also tried to divide the available area (204 square feet on the ground flour plus 67 in the loft) into four distinct spaces – kitchen, living room, bathroom and loft bedroom. There's an L-shaped kitchen at the back and an L-shaped bathroom at the front. The exterior door and a floor-to-ceiling kitchen window are located on the inner angles of those L's on opposite sides of the house. So instead of the end-to-end straight shot you see in a lot of THOWs, the axis in the Zaunbrecher goes diagonally from the door to the window, passing the sofa and the storage stairs on its way. Still confused? Take a look at the pictures – and even better, the floor plan!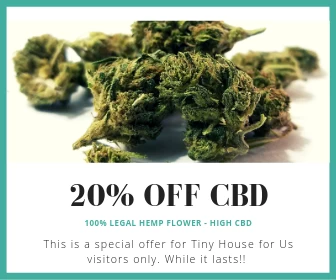 The roof is composed of 5V Crimp panels, as is some of the siding; the remainder is stained cedar.
This is the view from the door. The bathroom's to the left, and you can see pretty much everything else.
Since the refrigerator is against the wall rather than set into the storage stairs, they actually do have a lot of room for, um, storage.
Shocked at the lack of counter space in the kitchen? Don't worry, a fold-out next to the stove provides more when you need it.
The loft has under-floor storage as well as room for a queen bed.
Looking downstairs, you can see another cabinet next to the bathroom door and room for a small workstation across from it.
Besides the vanity sink and mirror, the bathroom holds a standard toilet and a 32-inch shower stall.
We're honestly not sure where the washing machine is located…
…but the floor plan and cutaway should clear up any other questions.
h/t Tiny House Talk