TexZen Tiny Home Co. calls this model the Open Concept, and while the name may not be particularly distinctive, it is descriptive. The high-ceilinged 22-foot house really is open from the huge kitchen at one end to the bathroom sink at the other. (The toilet and tub are behind a partition, and there's a barn door that can be slid over to close the bathroom completely.) Since there's nary a loft in sight, the headroom remains impressive throughout. No, all that open space doesn't leave room for a bedroom, but a sofa bed in the sizable living room might make this just the ticket for people who prefer elbow room to privacy.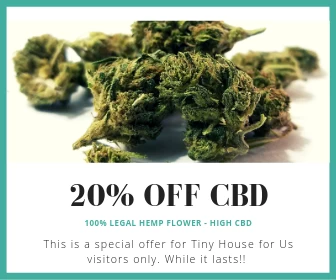 Sheet-metal skirt notwithstanding, this is a THOW on a double-axle trailer.
The small closet built into the bathroom divider would be especially useful if the living room doubles as a bedroom.
High walls topped by clerestory windows make it impossible to feel claustrophobic in this house!
The kitchen contains a giant fridge, plenty of cabinets, and a dining table that could double as a work desk.
With the closet closed, this is what you see of the bathroom.
Around the corner are the tub and toilet, and, visible in the mirror, a washing machine and dryer.
h/t Tiny House Talk