When we profiled Rich Daniels's 12×32½ Tillamook Triple Bay trailer a few months back, we noted that he had quite a few smaller designs available as well. Here's one of them, the loftless 8×22 (176-square-foot) Elaine. An awning on one side of the simple wood-and-sheet-metal opens to reveal a couple of floor-to-ceiling windows that take up most of the wall, and there's also a skylight and more glass on the opposite side for ample natural light.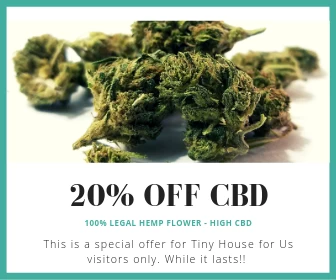 The front end of the trailer houses a bathroom complete with a real (if short) tub, and there's a small but fully-featured kitchen area at the rear. In between is a decent-sized living area warmed by a woodstove. Since there's no loft, that means there's no separate bedroom; a good sofa bed is probably a necessity for the Elaine.
With no loft, and a relatively simple layout, the Elaine cabin isn't the most dramatic design but it does It's a compromise that takes away a little privacy in the interest of keeping the silhouette compact and the interior functional, and that's a compromise most people who need a really small tiny house on wheels would probably be happy to make.