North Georgia craftsman James Brookshire, doing business as Otter Hollow Design, is an experienced furniture maker and remodeler, but he hadn't built a house before this one. Well, what can we say – sometimes you get it right the first time. The Otter Den is just 180 square feet, and looks it from the outside, but presents a seemingly vast expanse of open space once you get through the door. And that's complete with a bathroom and a real staircase leading to a loft that easily holds a queen-sized bed. The house is also fully wired, with four 20-amp circuits, and holds a plethora of electric appliances: a TV, an LG air conditioner, a refrigerator, an electric stove, a Wi-Fi extender, and a coffee maker.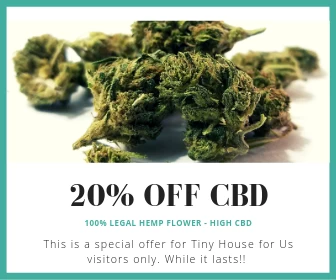 There are some tradeoffs; kitchen facilities are minimal and there's no sink or shower in the bathroom (the toilet is a Dry Flush Laveo). James wanted to prioritize open space in this design, and he's done that so well that you have to believe him when he says he could optimize the internal configuration for any buyer's particular requirements.
The Otter Den looks brand new, but is largely made from reclaimed materials – the roof, walls, and door are all salvaged.
This really looks bigger than 180 square feet!
That's about all there is to the kitchen, though, and there's just a quarter bathroom.
Nine-foot ceilings grant the loft ample headroom, and the queen-sized bed increases the feeling of space.
The stairs are every bit as nice as the Otter Den itself.