Whether you're the proud owner of a brand new tiny house, or simply live in a really small apartment, you're most likely on the hunt for compact, space-saving, and multifunctional furniture that will help you make the most out of your minimal square footage.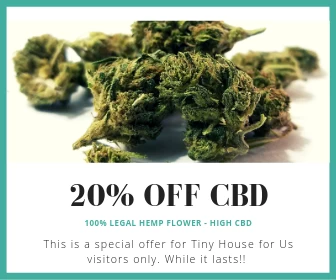 The best tiny house furniture is designed to slot neatly into small spaces and often serves more than one purpose, giving you two pieces of furniture for the floor space of one.
To help you with your task of finding the best tiny home furniture, we compiled a list of the top 12 must-have tiny house furniture additions to help you on your way to kitting out your home for full-time living.
12 best tiny house furniture ideas
1. Trundle bed
You probably haven't slept on a trundle bed since you were a kid but let us point out the advantages of this convertible furniture for small spaces. During the day you've got a comfy couch where you can sit and read or watch a movie in the evenings. At night, simply slide the bed out and you've got a place to crash.
This particular model is also particularly stylish, with its black steel frame. Plus, it's easy to assemble with no tools needed.
2. Collapsible table
Multifunction Folding Dining Table
Dining tables can take up an unjustifiable amount of space. But you do need somewhere to eat. The solution? This folding drop leaf dining table can be expanded for meal times and folded down when not in use. It's also aesthetically pleasing with its minimalist steel and wood design.
3. Collapsible chairs
Stackable Lightweight Plastic Folding Chairs
You've probably noticed there's a theme to this list of furniture. Everything's collapsible. And the same goes for these chairs. When not in use, they fold down completely flat so you can slot them into a cupboard or hang them from a hook. The perfect tiny house seating solution.
4. Fold-out desk
If you're working from your tiny house, you need a workstation where you can get down to business. This fold-out desk is perfect. It attaches to the wall and folds out to serve as a desk that's, admittedly, quite small, but more than adequate for a laptop and a cup of coffee—which is all most of us need. And you could use it as a dining table too.
5. Storage stool
Looking for dual-function seating that also looks stylish? We love this cute and compact stool that also serves as storage—great for tidying away clutter. It's got a metal tube base and a velvet cushion—pretty luxurious and sure to add some style appeal to your tiny house. It's also available in a range of colors and will hardly take up any space in your tiny house.
6. Storage bench
Similar to the above, this bench offers seating and storage in one nifty piece of convertible furniture. Below the seat, you've got two drawers with ample space for storing things out of sight. The design is simple and modern and would work well in any number of tiny house interiors.
7. Two-seater sofa
If there's just no way you can give up your couch, no matter how tiny your tiny house is, we've got the solution. This super-compact two-person love seat is the ideal compromise between the comfort of a classic couch and space-saving tiny house furniture. It's elegant and stylish and will take up minimal footprint while still offering a prime spot for lounging.
8. Multipurpose coffee table
Coffee Table with Storage and Strong Metal Frame
Coffee tables might seem like a luxury that you can go without in your tiny house—but they can be really useful. You can put your laptop on them when watching movies, use them as a footrest, or even as a dining table with two floor cushions. This one has the advantage of storage under the tabletop so it can also help to keep your home neat and tidy.
9. Wall-mounted lamp
Plug-in Wall Lights with Dimmable Swing Arm
Good lighting works wonders to make a house feel more homely. Rather than cold and sterile overhead lighting, opt for a combination of lights at different levels. And to avoid taking up too much valuable floor space, we recommend these stylish wall-mounted lamps. They're a cool balance between modern and retro and would look great in pretty much any tiny house.
10. Extendable clothes dryer
Stainless Steel Wall Mounted Collapsible Drying Rack
This one's a bit boring—but useful all the same. You need somewhere to dry your laundry. Nobody wants to string up a laundry line inside their home and have to dodge damp clothes as they move around. Plus, a tumble dryer uses far too much power. So this extendable clothes dryer is the ideal space-saving furniture solution. It's the equivalent to 22 feet of linear hanging line and is made of sturdy aluminum.
11. Corner shelving
Five Tier Wall Mount Corner Shelves
As we've said before, storage is everything when it comes to tiny houses and this is one of the best storage solutions we've seen. It's difficult to make the most out of corner space but this shelving unit slots right in there, allowing you to display everything from treasured knickknacks to your kitchen spices or even books.
12. Hammock
Tiny house dwellers are known for doing things a bit differently so why not have a gravity-defying seating solution like this? Not only does it make us think of holidays in some tropical destination but it's also super comfy to sit in and can be unhooked and stashed away when not in use.
The final say
These smart small house furniture ideas have all been cleverly constructed to deal with space constraints. But our favorite piece of tiny house furniture on this list?
It has to be the storage stool. It's one of the best tiny house furniture ideas—simple, multipurpose, and compact. Everything tiny house furniture should be. Plus, apparently sitting on a stool engages your core and back muscles, which is good for posture and health.
For more inspiration for your tiny house interior, check out our list of the 8 best tiny house appliances. 

Headline image by Tay & McKay