A miter box is a device used by carpenters to hold a piece of wood in place while sawing it at a precise angle. Oregon builder Shelter Wise named this tiny house after the tool to describe the precision with which it's built – and maybe also to reflect its truly diminutive dimensions of 122 square feet of floor space plus a 28-square-foot loft. This model is a more streamlined version of another one of their models we featured not long ago, the Cider Box, which has remained one of the most popular tiny houses on wheels we ever reviewed. On the outside, this one appears a bit smaller, with a less distinctive facade that favors simplicity, but don't let that fool you. The inside is packed with impressive design elements as you'll see.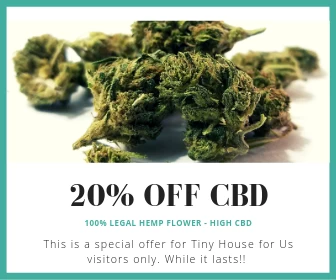 Seated on a custom-built trailer from Iron Eagle Trailers, the Miter Box is covered in cedar inside and out, except where its standing seam metal roof extends down one side. Casement style aluminum windows are built into the walls, which are packed full of insulation to retain the heat from the thermostat-controlled 475-watt wall heater. Floors are of subtly-textured and durable Sequel Rubber Cork.
The kitchen area features metal countertops and a stainless steel refrigerator. The dining table is also metal, and even better, it can be lowered hydraulically so that the dinette can be changed into a bed for extra sleeping accommodations. There's storage space under the dinette as well, and pretty much everywhere else you could think of.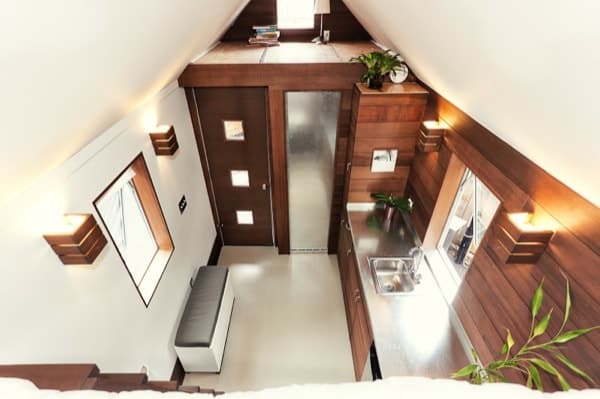 Unlike many houses of this size, the Miter Box includes a flush toilet (although it's possible to install a composting one if preferred) as part of a "wet" bathroom.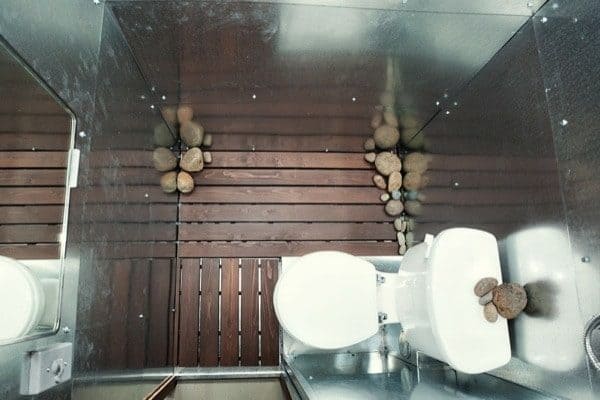 Need more room for guests to sleep in addition to the sleeping loft? No problem – the dining table adjusts and transforms into a bed! Pretty amazing eh?
Small details like the stylish lighting adorn the design.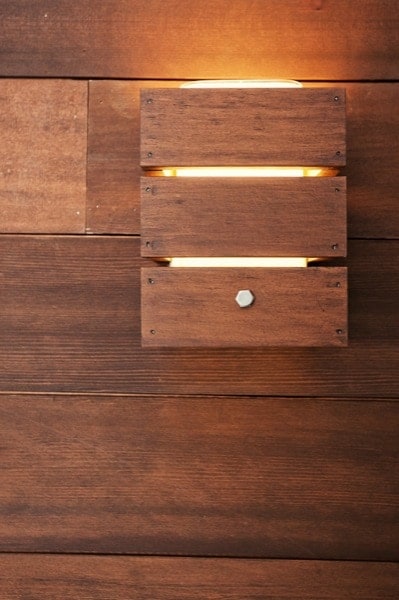 This original Miter Box sold for $35,000, but newer models are priced at $50,000. Plans for this house are also available via PAD Tiny Houses.