This unique example of a tiny house on wheels comes to us from Austria, and is made by Wohnwagon. It shows off an exterior clad in larch, with a rounded end that gives it a certain visual appeal. Wohnwagon brings a sustainable approach to the build, using locally sourced and recycled materials, and finishing it with a green roof designed to both help with insulation and improve water runoff, which can be collected and stored for reuse. They also use sheep's wool for the insulation, another very effective and naturally-sourced material.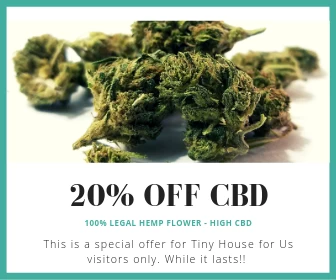 Power comes from a solar array on the roof which stores energy in batteries underneath. It also includes a retractable awning so guests can enjoy a bit of shade when lounging around. The interior shows off a sort of minimalist Scandinavian aesthetic, with clean white walls and dark woods. On one end there's a bed and pull-out storage, with a panel of wood neatly tucked against a shelving unit that folds down to serve as a small dining table.
The opposite end contains the kitchen and bathroom, where a composting toilet and basic shower setup can be found. Harvested rainwater from the stainless tank is treated to make it usable for drinking and washing, while a solar water heater allows for on-demand hot water. The kitchen space also includes a second small table for dining. Light spills in through several round triple-glazed windows on one side, and larger rectangular ones on the opposite side.
Images via Wohnwagon | h/t Inhabitat
Currently the Wohnwagon is only available for production in Austria, and they plan to bring it to mass-production at a price between $44-99k. We don't know if they plan to offer building plans in the future, but we sure hope they do. Visit http://www.wohnwagon.at/ to learn more.