Tennessee Tiny Homes and its sister company Tiny Happy Homes have been going strong since 2011, with more than thirty builds under their belt. This one, the 128-square-foot Reed, is one of their most recent accomplishments. It's a pretty basic tiny trailer house with a sheet metal roof, wood siding, and laminate flooring.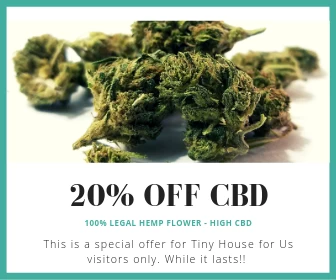 As with all their models, it comes with a gas stove, small refrigerator, infrared heater, composting toilet, 32×32 shower, kitchen sink and on-demand water heater. Nothing overly fancy, and nothing too unusual, except maybe the price – you can get all the above for just $25,000. It's a very complete package for the money and well worth checking out if you're in the market.
Several siding choices are available, making it possible to give your Reed a uniquely personalized appearance.
The kitchen and bathroom share the front of the trailer, with the sleeping loft above them.
The rear sitting area. The octagonal window is a nice touch.
There's not much elbow room in the bathroom or sleeping loft, but it's about all you can expect in an 8×16 trailer.
Subtle yet stylish design features like the woodwork over the porch extension give this tiny home personality without extending the budget.