DC-area couple Luke and Courtney not only built thebiggesthouseintheworld (all 230 square feet of it), they also milled all the lumber themselves! Since the wood – mostly poplar, cherry and cedar – came from trees that Luke cut down while working as an arborist, that was more a necessity than a case of taking DIY to extremes. Matched with a giant deck, their house is well integrated into a lovely forested lot, and Luke and Courtney are now working on the landscaping with the aim of making a "woodland garden" featuring ferns and other native plants.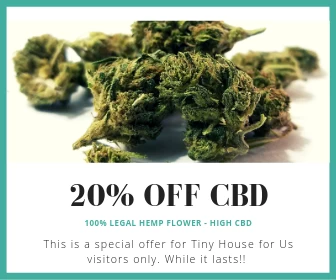 A brown metal roof and green poplar siding complement the colors of the surrounding trees.
With gravel paths leading right up to the door, the house looks so perfect here that you'd never guess it has wheels.
Outdoor dining among the ferns.
The view from the front door shows the cozy kitchen, sleeping loft, and a little bit of built-in storage.
The dining table is to the right; there's a handy coat rack to the left.
The bathroom, just off the kitchen, also holds a composting toilet.
Big windows and lots of space in the 72-square-foot loft.
h/t Tiny House Talk