Pietro Belluschi was a well-known architect who designed massive skyscrapers and magnificent churches with spires reaching high into the sky. While he made a name for himself designing these giant structures, at one point he also built a tiny teahouse in the backyard of a home he designed in Portland's West Hills. Today he and his son Anthony are gaining new recognition for a compact zen-like tiny house of only 236 square feet. Back in 1944, way before any sort of "tiny house" phrase was popular, Pietro was hired to build a house on a property that also included an old shed that the owners decided to keep intact.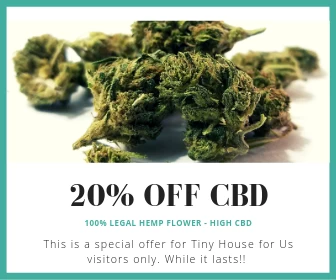 Belluschi added cedar siding and a small overhanging trellis to the aged structure, with intention to make it a place for the owners to meditate in peace. Eventually Pietro and his wife would purchase the property, after which they installed a shower, sink, and toilet to make it more versatile. From that time on, Pietro and his wife Marjorie spent time in the tiny house napping, drafting new architecture plans, and finding solace from the day to day grind. At age 94 he passed away, and over the next few decades the tiny house fell to decay. Just a few years ago it was close to collapsing, with broken sewer pipes and bugs infesting the space.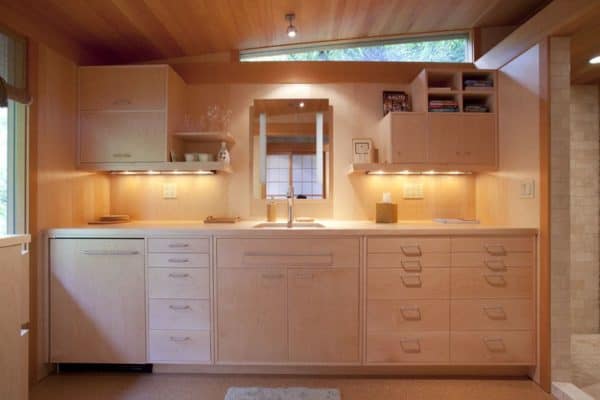 In 2008 his son Anthony stepped in with a new vision to bring the tiny space to its next stage of evolution. He replaced the worn down structure with a new, elegant guest suite and studio. Anthony and his wife lived here for 18 months as they meticulously renovated it along with the main house, where they currently reside. The only piece he managed to salvage was a corner of the original foundation, which remains in place as a testament to the original building. From that foundation he built an entirely new teahouse, borrowing from the Scandinavian/Japanese style his father was known for.
Inside there are three sections, separated by shoji screen pocket doors. A main room serves as a bedroom, living room and dining room. Another room serves as a "kitch bath" which Anthony Belluschi describes as a clever combination of a kitchen, bathroom, and changing room. It's an interesting concept. On one side there's a typical kitchen, with a single counter, sink, and appliances. Across from it there's the bathroom counter, toilet and shower, with no divider separating them. He makes use of the furniture too, as the small table expands into a larger dining table and the high ceilings and clerestory windows provide a sense of open space.
Hat tip to Oregon Live for the scoop.