In a 250 square foot home in Texas lives a dreamer who met her builder. Together they embarked on this journey to start their married lives simply. We interviewed Sam and Tara to find out what tiny living is really all about!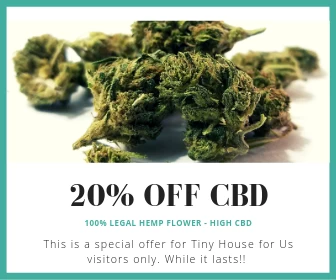 On why they decides to live in a tiny house
Sam was all about the savings:
"Financially this was going to be the best option for us. We had been thinking about buying a house, and during the search I just kept thinking 'There has to be a better option… Something feasible we can live in without breaking the bank every single month.'
Well that option was a Tiny House!"
For Tara it was about the challenge. "Why not? Why couldn't we? I think oftentimes when a more "extreme" option is on the table, anyone's immediate reaction is "Well… I can't do that.""
"I like to keep my life filled with the "why nots" The adventure and thrill of building a home for ourselves is also super cool. Looking around after it's finished, knowing and being proud of what YOU built? Priceless."
Their biggest struggles, living tiny?
Simple living sometimes means being more mindful of what you put down, and sometimes it means bothering the other person. But they still make living in close quarters work well. .We think it is safe to say the benefits outweigh! Here is what Sam and Tara had to say:
Sam: "Definitely the fact that there's no separate rooms. I'm not saying it's impossible, but it's a slight pain. I love playing video games, and Tara has a hard time sleeping with me right there. Now this can easily be fixed with a barrier wall for some of our loft, but I don't think not having separate rooms is talked about much when couples go Tiny."
Tara: "I think for me it's how much cleaning goes into it… Before the judgement rolls in, hear me out. When you have a normal, let's say 1,200 sq. ft house, things pile up slowly. I can walk into our Tiny House, drop my jacket/purse/anything extra I may have brought in from the car… Instant clutter/mess."
"Granted, all it would take is me putting everything into its spot, but here's a huge TIP! Make sure every single thing in your tiny has its own spot. If you don't, you will always feel cluttered and overwhelmed."
The best appliance for them?
When you don't have a lot of space, there has to be that one superstar that you wouldn't live without. Here, the couple was not divided:
Sam & Tara: "We were both unanimous on this one! Our Whirlpool low profile microwave. When you're looking at it from the picture on the website, you're immediately gonna say "mmm. No.""
"But consider: This puppy can fit a Venti Starbucks cup in there! We realized that the average person never really puts anything massive into their fridge! Unless you're an untrustworthy person, and I know y'all aren't."
"We are both so in love that whenever we do decide to build a home, we will still have one of these in there!"
What is the best part of living tiny so far?
Once again, they are on the same page: .
Sam: "I'd have to say how simple it is… I love that everything has its place. I was a bit of a minimalist before this, so living with less is awesome."
Tara: "Mine is similar to Sam's… I love the intentionality behind tiny living. When you LOVE a new piece of clothing, or something you find at a garage sale, you have to ask yourself: 'Will this work in the Tiny?' Or: 'I have to take a piece of clothing out if I'm bringing another piece in.'"
"I love this style of living, because life lived without stuff that you don't even love… or stuff that you kinda loved, and got because why not? There's no room for that kind of thinking, which is my favorite part."
"All in all, the mentality of Living Tiny will stick with us for the rest of our lives. No matter the size of the house, we know that we can live with less and that with less stuff comes more living!"

For more on this couple's dream home journey, visit their Instagram profile @oursmplepursuit