You might think of the Netherlands as a place to consume great works of art, or perhaps copious amounts of legal marijuana, and not so much as a place to bask in sunshine on beautiful sandy dunes next to the ocean. Yet many Europeans looking for a weekend getaway visit the island of Vlieland, located just off the north coast, which serves as a primary tourist destination. It's also home to this new home designed by Bloem and Lemstra Architects. Like a many tiny houses, the builders had to look for creative ways to skirt zoning regulations to squeeze a bit more living space into the design. They were limited to 581 square feet when building a new cottage but they took advantage of a little provision allowing for a small 65 square foot outbuilding. This allowed them to expand the footprint while saving a few extra square feet inside by building an attached shed, which is used as a laundry and mud room.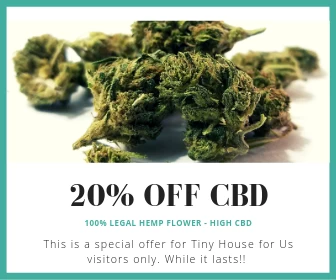 The design also takes advantage of regulations that allow for ample roof overhang, which covers a simple porch on two sides of the home, adding extra space isn't included in the official square footage. With large glass doors that fold wide open the overall design it feels larger, and the tiled interior seems to join the wooden porch as a natural extension of the living quarters.

As for the structure itself, it remains a fairly simple design. Two cube-shaped boxes join together and provide a living room, dining area, and kitchen. Believe it or not, they manage to fit two tiny bedrooms and a compact bathroom in the space behind the living room. The overall look and feel of the cottage fits in with its neighbors, with the gently sloped roof and narrow spaced vertical slats adding a bit of unique look.