More than a few surprises come with this 288-square-foot cabin from Devon, UK, builder Carpenter Oak. One is its age – the construction photo below is almost twenty years old, but as you can see from the other pictures the pegged green oak frame has held up remarkably well. Another – since it's obviously not on a trailer – is its portability. The semi-modular design allows it to be disassembled for transport and put back together good as new, and that's not just a whimsical hope: it's already been moved twice and still looks great. The home also has fold-out sides that protect it when it's unoccupied and become spacious and functional decks when someone's at home. The rustic interior features a bedroom alcove, bathroom, and small kitchen area.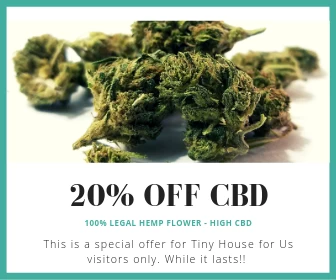 The cabin was first assembled at the the 1996 Country Living Fair.
Four fold-out decks, each big enough and strong enough for a picnic or barbeque.
Inside, it's a very rustic look indeed.
Floor-to-ceiling windows between the oak posts bring it into the 21st century – and bring in a lot of natural light!
A bed with curtains that can be drawn for privacy occupies space behind the kitchen.
The system they devised to raise and lower the deck sides is shown here.
The current owner, Richard Burton, is quite happy with it and enthusiastically recommends Carpenter Oak to anyone who wants something similar.