Tim and Sam's tiny house is named Tiffany after Art Nouveau stained glass artist Louis Comfort Tiffany (1848–1933). Sure enough, it has Tiffany-type stained glass in the doors, the windows and the wall sconces, and the nods to times gone by don't stop there. The house may sit on a modern 24-foot TumbleWeed triple axle trailer, but it's modeled to look like a 1920s craftsman style bungalow. It's not exactly wired like one, though – despite the retro aesthetics, this is a smart home incorporating a Lutron Caséta wireless system and Nest products controlled through an Amazon Echo.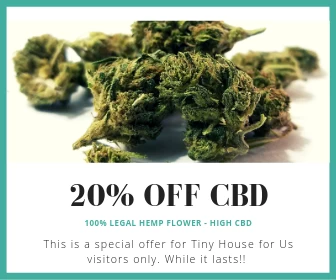 The couple got the idea for Tiffany after Tim's parents told him it was time to move out of their Sarasota, FL, rental property and get his own place. Since Sam's lease was ending in the same month, it seemed like a perfect time to move in together. Finding foundation-built bungalows in the area too spacious, they commissioned their very own 270-square-foot THOW and began a well-maintained blog featuring advice on tiny living and relevant product reviews.
Take off the wheels and Tiffany would be perfectly at home in a quaint Florida neighborhood.
Looking rearward, you can see some of that stained glass, the auxiliary loft and the living/dining room…
…but you might have missed the kitchen, which is tucked in a corner between the entryway and the 10.3-cubic-foot fridge.
Towards the front is a washer/dryer, a stairway to the master loft and more stained glass in the bathroom door.
The bathroom is stunning, with a custom cedar tub framed by Amalfi marble subway tile.