This big (352 square feet on a 37-foot gooseneck trailer) luxury THOW from Timbercraft Tiny Homes carries over the sophisticated country modern style that had us falling in love with the Alabama company's first build back in 2015, while the extra space allows a private bedroom upstairs, a tub and washer/dryer in the bathroom, and an 11-foot ceiling in the living room. They've got it for sale at $89,000 – but before you write it off as a rip-off, remember that it is large, and it is luxury, and that Timbercraft also offers simpler 20-foot models starting at just $35,000. And, of course, take a look at the pictures: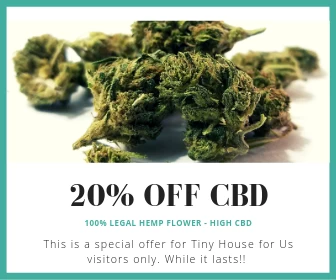 All the headroom in the world, even if you play in the NBA.
The deep sink and elevated cabinets give the kitchen farmhouse style in spades, and the big fridge and ample counter space will make it very functional. There's also an oven under the four-burner range.
Tub, tiles, toilet, and a very classy copper basin sink – what more could you want in your bathroom? Oh yeah, a washer/dryer! (You can see it in the mirror.)
Privacy and climate control while you sleep in the queen-size bed. A clothes closet is opposite.