As a die-hard ski bum who lives near the Tahoe National Forest, having a small house like this up in the mountains would be a dream come true. Something about it speaks to me and it features some terrific design elements, so let's jump right in. First, it's not quite "tiny" by the strict definition, coming in at just over 500 square feet. The first floor accounts for 358 square-feet, while two lofts on either side come in at 80 square feet apiece. Dubbed the "E.D.G.E." Cabin, which stands for Experimental Dwelling for a Greener Environment, this little palace features everything you could want in a tiny home. Two sleeping lofts offer cozy places to rest, and one of the coolest features is the living room which can be transformed into a dining area, study space, or even a bedroom with its modular design.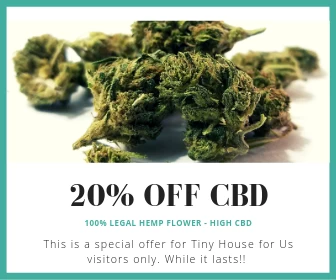 The exterior has been designed to collect rainwater, which you can store for later use – something us Californian's can surely appreciate with the severe drought. Huge insulated sliding doors can open, allowing light to spill in for radiant heat, or shut to keep things toasty inside. Of course there's a kitchen with plenty of cabinet space and bathroom downstairs. All areas inside the house seem well thought out, taking up minimal space while offering maximum utility. Some might say there's a bit too much function, and not enough form due to the extensive use of plywood throughout, but I reckon that can be remedied with a few personal touches.
Perhaps one of the most innovative uses of a living room can be seen here, with a sizable dining table that transforms into a modular seating area, and then into a bed in just a few steps. How cool is that? I imagine with a few comfortable additions to the decor you could make this a very warm and comfortable space to call your own.
The home is made by Revelations Architects, and you can tell they made it with a minimal approach – there's a lack of personality with some of the wood finish and overall design elements, and it doesn't seem very warm and inviting, but I think a bit of decoration and personal touches would supplement the overall bare look and feel, adding a level of comfort and style of your own. After all, isn't that the ultimate goal, to make these spaces your own with those sorts of additions to match your needs? Throw a lazy-boy recliner, some bean bags, or a few yoga mats in there and you're good to go!
Add a bottle of wine, a blustery snowstorm, and a comfortable seat and this would be my slice of heaven.
For more information about this incredible prefab cabin check out Revarch's website. They have some other great designs worth checking out as well. Photos credit to Dan Hoffman.