The Bayview is one of the baker's dozen of models currently offered by Tiny House Building Company of Fredericksburg, Virginia. The 28-foot triple-axle THOW doesn't show much more whimsy than the company's name; aside from the sliding glass doors on the front end it's almost entirely devoid of design flourishes. Simple, straightforward and unfurnished does equal spacious, though, and the Bayview certainly manages to look bigger than its 368 square feet would suggest. At least, it does in the open main area encompassing the living room, kitchen, and two lofts – the bathroom / laundry room looks downright huge! The Bayview is priced at $89,900 and is available for viewing by appointment only; see Tiny House Building Company's contact information if you'd like to schedule a tour.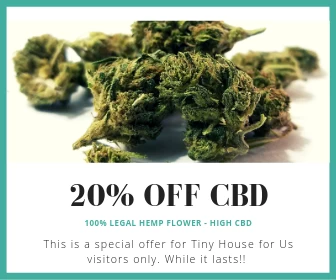 The Bayview's color scheme is a modern gray with white trim.
Point the house in the right direction and you'll have a great view from the living room.
Long storage stairs parallel a kitchen featuring a custom tile backsplash, large sink, and induction cooktop.
The bathroom gives you room to get dressed after your shower – which you'll probably appreciate if you have company over!
It's complete with a vanity sink, composting toilet, and a washer/dryer unit.
The view from the secondary loft across to the oversize master bedroom.
h/t Tiny House Talk