What do you do with all the money you save by living in a tiny house? If you're Kristie Wolfe, you build a second one, and you do it somewhere tropical. Kristie is no stranger to tiny houses, having built her first one several years ago in Boise, ID. Now she's taken her love for DIY home building to Hawaii, where she bought a plot of land sight unseen for $8000 and spent about $10,000 on supplies to build this magical little house. Clearly she has some skills, as it looks like it came straight out of a magazine spread. Let's check it out, shall we?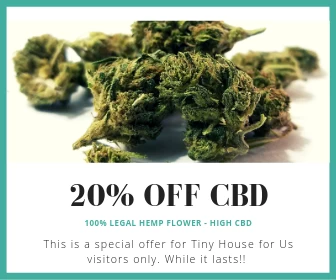 She calls it a treehouse, and although it's actually built on 15-foot tall stilts, it's definitely high enough to get to into the midst of the jungle canopy. The stilts also leave room for a hanging bed that she made, located under the house and out of the frequent rain.
Ladder stairs lead from there up to a trapdoor into the interior, where visitors find a bamboo-finished room with another bed. Next to that there's a bathroom with a shower, natural rock sink and toilet all fed by rainwater.
Love the daybed idea, and I could see this area being used a lot, especially when it's raining. In the true spirit of creative sustainable building, she used a trampoline for the bed, a process she explains in this blog post.
Kristie used natural cork bark for a backsplash in the shower, and added little air plants to make it feel like a totally natural setting.
She put in a huge amount of effort not only building this treehouse, but documenting every step on her blog. When she's not traveling, Kristie still lives primarily in her original tiny house in Idaho, so the Hawaiian Treehouse is available most of the year. She has a very comprehensive description of it on Airbnb – check it out if you're interested in renting the place or just want to know more about it.
Building the Treehouse With Kristie
It makes sense to build small on Hawaii. The island is home to some of the most expensive housing and land prices in the country, and Kristie proves you don't need a massive budget to build a dream getaway like this. Plus, with the extra income she makes from renting it we think she might build a third house soon enough!
If you want to learn more about this house and see what else this impressive chick can do, check out her blog "Tiny House on the Prarie".