"We found building our own tiny home allows for customization in the design that better fit our needs and lifestyle." – Neil and Tonya Bennett
And how! When we ran across this 33-foot steel-frame gooseneck THOW built by owners Neil and Tonya Bennett (blogging as Tiny House On The Road), we were struck by how completely they threw out the rulebook. It's a tall place, and rather than using that height for headroom, the Bennets built a platform in back. On top of it are the kitchen and bathroom; underneath it is what must be a literal ton of storage space. It matches the height of the gooseneck section in front (where the bedroom is located), so the only full-height section is the entryway in the middle, which looks like it could also be the house's sitting area. The Bennets need a lot of long-term storage space because they move frequently for Tonya's job as a traveling physical therapist, so the design obviously works for them. While it might not be universally popular – tiny homeowners do tend to love high ceilings! – it seems like a great idea for anyone with similar requirements. We wouldn't be surprised to see a few commercial builders picking up on this idea in the near future.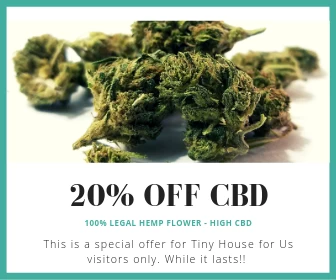 The house is off grid, solar powered, drought resistant, and net zero energy. No wonder Tonya is proud!
We're guessing around 300 cubic feet of storage under there? Wow!
Neil takes a break from installing the kitchen cabinets.
The kitchen isn't huge, but it does hold a full-size refrigerator – and a woodstove.
Bathroom wall, coming right up!
And a simple but spacious bathroom at the end.
h/t Tiny House Talk