The NestHouse is a prototype prefab from Jonathan Avery of Tiny House Scotland. He completed it in June 2016 after two years of design work and is currently in the testing phase of product development.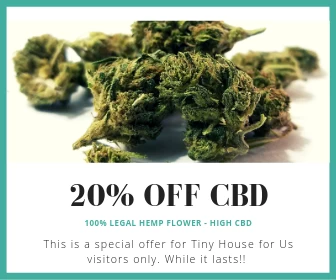 There's an amazing amount going on in this house, but let's start with the obvious. It has a cottage-style footprint that gives it 270 square feet of area and 11 feet of width to make the mostly open interior comfortably roomy. With windows all along one wall, it's also quite bright inside, showing off the whites, light wood and pastels of the tasteful color scheme to good effect. It's nicely fitted out with a kitchenette, a woodstove, and a big square tub in the bathroom, but Jonathan has kept the built-ins to a minimum so that buyers can use their own furniture and arrange it as they'd like.
It's all very pleasant, and as Jonathan says he can deliver it for a price well under £50,000 ($62,000), that's likely to be enough to get a lot of people interested. But, as they say, wait – there's more!
The NestHouse is timber-framed, with traditional in-wall insulation, but has a unified stressed-skin shell covering what would normally be intersections between the walls, floor and roof. That's then wrapped in another shell of exterior insulation in which the double or triple glazed windows are set, all but eliminating thermal bridging. Positioned with the windowed wall to the south to take advantage of passive solar heating, the NestHouse very nearly meets Passivhaus standards.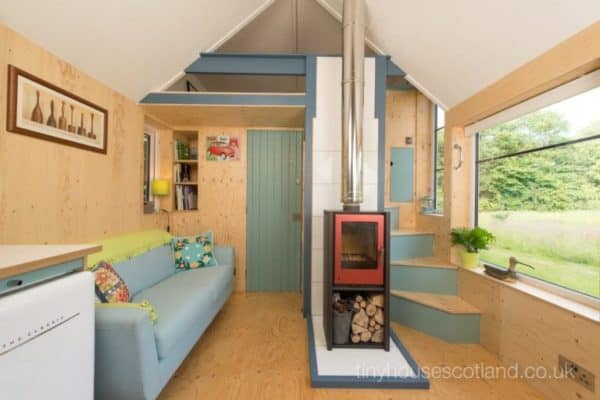 Speaking of positioning, the NestHouse is designed to be limitedly moveable. It's not by any means a THOW – too wide, and at up to 10 tons too heavy – but it can be set up on a wheeled chassis that could be towed around a property by a tractor. Alternatively, a non-wheeled version could be transported on a flatbed and lowered into place by a crane. That means it would be possible to take it with you when you move, or sell it to a buyer in another county.
h/t Tiny House Talk
But you might never find a reason to sell it, because it would also be possible to adapt the NestHouse to your changing needs. It's a modular design, so you can customize it when you order by choosing different functional modules according to your requirements, but Jonathan is also planning to create a few retrofittable add-on modules that could be used to expand area and capabilities in the future.
While he's putting the prototype through its paces, Jonathan is entertaining serious enquiries about commissioning the first production NestHouse; please contact him here only if you're realistically in a position to buy. Meanwhile, he's also working on a new THOW to be called the NestPod.