We've seen some pretty amazing designs from a lot of different builders, but so far this is the only tiny house on wheels with a hot tub that we know of. While you're trying to maximize space in your tiny house designs, others are making sure they get a warm and relaxing place to steam off a priority. It might sound crazy to you, but to each their own.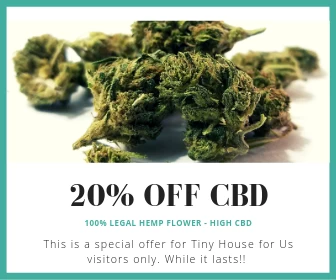 A cozy loft provides sleeping space, and the angular walls allow enough room to sit up or kneel without hitting your head. We also love the windows, which provide natural light and open to let in fresh air.
In addition to the main bed, two smaller beds run adjacent to the house, adding plenty of room to sleep comfortably.
A simple and elegant floor plan defines this home, with a wood stove, a small kitchen, and a small set of stairs that lead to the doorway outside where the wood-fired hot tub can be found. The kitchen includes a full-size refrigerator and a dining table that can seat up to five people.
This tiny house is built by a British company, Tiny Wood Homes, and they're only available in England at the moment. The cost? $57 grand gets you one of these. They refer to these as "small luxury cabins" so take from that what you will. Their target market seems to be aimed at glamping rather than living. If you're in the area and are interested in trying one out, they offer a Tinywood for rent as well.
Of course, most of us don't have time/energy/resources to attach a full blown hot tub to our tiny house. In that case, maybe you should check out something like the hot tub hammock – seems like a viable and affordable alternative, no?
Surprisingly this tiny house can sleep up to six people, and the interior layout looks very nice from what we can tell. The hot tub is a wood-fired one, and therefore doesn't suck down a massive amount of electricity.