For a highly rated Seattle Airbnb rental that combines a rustic cabin style and modern amenities like surround sound and a digital in-wall bar, turn to Tipsy, a tiny house on wheels designed and built by architect Chad and graphic designer Lindsay. At 180 square feet, with loft sleeping, a small kitchenette and a bathroom with shower and flush toilet, Tipsy is the perfect size for short-term stays, and the $110 a night fee's not a bad deal either! It's located in the West Seattle area, close to Alaska Junction Lincoln Park and Alki Beach, and is separated from the owners' residence by reclaimed wood planters for added privacy.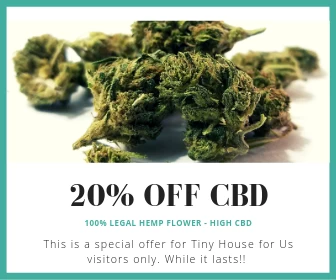 An August Smart Lock will be keyed to your smartphone for easy, secure access.
There's a small office nook in case you need to get some work done while you're in town.
You can also watch Netflix and Hulu on the flat screen TV.
Several skylights keep Tipsy fairly bright despite all the natural wood (a mix of oak and other hardwoods).
From the cozy couch it's a quick climb to the sleeping loft.
A cozy nest with treetop views.