We often see homes built from salvaged materials, but I guarantee you haven't seen one quite like this. While most people who set about saving money search on Craigslist or scour abandoned homes for materials to repurpose, this couple took a different approach, opting instead to use scraps from old film sets they worked on. Chloe and Brandon had spent frive years moving around from apartment to hotels, and friend's homes during their time in New England, when they finally came up with the idea to build their own roaming home on wheels.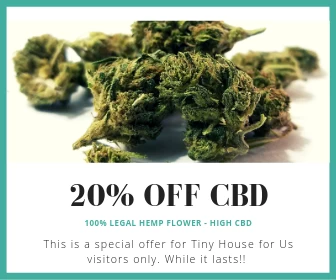 They couple works on movie sets, where Chloe served as a stylist and Brandon as a carpenter. They began collecting scraps from the sets, along with materials from yard sales, or things they found on the side of the road, and constructed their tiny house in just nine months, doing much of the work during the record-setting winter in Boston. Since the couple typically moves around to take new jobs it made sense to design the home to be portable, and to that end they succeeded, spending just $10,000 in the process.
The design inspiration came to Brandon in the form of a steamer trunk, with nuances from railroad cars, stage coaches, and gypsy caravans, and even old sailing ships borrowed. The end result is a totally unique build.
"Your imagination is the limit. You can design functions that only you need or understand."
The couple currently has the home stationed in the Hamptons at a friend's backyard, but they plan to attach it to a five-ton military truck that's been painted to match the color of their home. With the finishing touches complete they're excited to "set sail" and explore the country in their new home, going where ever work takes them, and perhaps even shipping it across the Atlantic to Europe if need be.