This metal-clad tiny house on wheels was custom built to order in Florida. It comes in at 13'6″ high and 8'6″ wide and was made by Trekker Trailers. It's described as a split level, which may not be entirely accurate but does convey something of the vertical openness afforded by two large lofts. The bigger one is 50 square feet, enough for a king bed, but it's not actually the master bedroom – that's the more private area secluded behind a wall up a standard size flight of stairs, which is still big enough for a queen bed and some nice shelves. Below – way below, because this is a tall house – is a kitchen with a fridge, microwave, and cabinets concealing a portable stove and electric oven.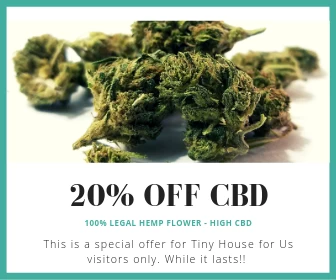 Photos by THT via YouTube h/t Tiny House Talk
The bathroom's big, too, holding a sink with a cabinet underneath, a flush toilet, a large shower stall, and even a washer/dryer unit. The living area is comparatively modest, but it does feature a wide underfloor storage compartment. It's a simple little space with enough clever design elements that bring obvious dividends for the builder and owner.