Florida-based builder Trekker Trailers offers a variety of trailer living solutions, including campers, gypsy wagons, and 24-footer tiny houses. Their latest is also their biggest to date; based on the 24-foot design, this one goes to 30 feet thanks to a deck extension, and is so solidly built that it required a triple-axle trailer to support it. Trekker Trailers built the customized shell in about a month, then handed it over to buyer Emily and her yachtsman boyfriend Clark, who spent another four months making an admirable job of the finish work.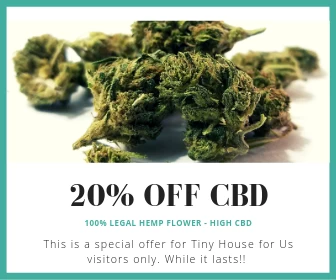 The brightly painted wood-and-metal exterior was Emily's idea, while Clark lent his nautical experience to developing space-saving interior features such as a fold-out counter. There's an adequate kitchen with a tiny sink, two-burner induction stove, microwave and separate refrigerator and freezer units; a good sized bathroom with a composting toilet, 54-inch bathtub, and (again separate) washer and dryer; and a downright spacious loft with a 50-inch ceiling and room for a king-size bed.
And there's also what at first looks to be a lot of wasted space in the stairwell/entryway towards the front of the trailer. In fact, Emily had a good reason to leave it open: she's an avid piano player and needed all that roominess to get decent acoustics. The piano itself will be installed in the bump-out atop the trailer tongue, and generous insulation throughout the house should help keep the instrument in tune in any weather and across the changing of the seasons.
h/t Tiny House Blog
When it comes to tiny house design, it really does seem that where there's a will, there's a way.