When you see a solid metal box like the one shown below, the idea of living inside of it might seem more like a punishment fit for a prisoner than it does a great start for a vacation home. After all, how comfortable could a giant metal box used to transport toys from China be? The reality however is far removed from whatever impression you have formed in your mind, and the truth is some really incredible homes have been made out of these metal boxes. In fact, these achievements are so warm and inviting you might not believe that some of these homes were made from a rectangular chunk of cold steel.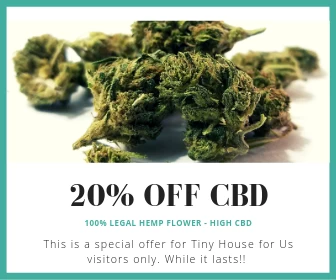 In the quest to find reusable materials to build homes, people seek all kinds of solutions and it just so happens we have an abundance of leftover shipping containers available from the global trade network. From a basic pricing standpoint, using these containers as a building blocks for homes makes for a budget-friendly choice since the average shipping container costs about $2,000 and as you can imagine, it takes a certain amount of customization to make it hospitable. Architects and home designers seem more than capable of transforming these containers, and what you'll see below is nothing short of incredible.
Let's take a look at some of the homes people built using these large metal boxes. While most of these could be considered tiny, a few push that definition – though we spared some of the homes built using 30+ containers!
1. "Containers of Hope" by Benjamin Garcia Saxe
The owners of this gorgeous small home sought a simpler life in Costa Rica, and wanted to build something that was both affordable and low impact. They hooked up with architect Benjamin Garcia Saxe to build this home with just two shipping containers. The cost? A measly $40k – not a bad figure when you see the results.
By positioning the two containers adjacent to each other, slightly offset and with a gap between, they were able to maximize square footage and create a great floorplan.
A raised roof with an angled slant adds a bit of dimension and also makes an ideal location for solar panels. The bold use of glass at the end of each container and along the roof adds to the attractiveness that would otherwise be lost if they left the metal. It also allows plenty of light to spill in and provides a great view of the surrounding countryside.
The central corridor runs through the entire length of the house, offering expansive views from either end through the glass windows and creating a sense of space.
2. A Container Guest House
Maybe you have limited space in your existing home, but a large yard that offers a space to build a guest house. Check out this simple yet beautiful example, with bold blue colors and a nice integration into the landscape. This was built by Poteet Architects, and they actually tackled several other projects using shipping containers. Check out the rooftop garden too – a very cool idea that adds character to the home and also provides a great way to soak up rainwater. We also love that old red Chevy convertible parked outside.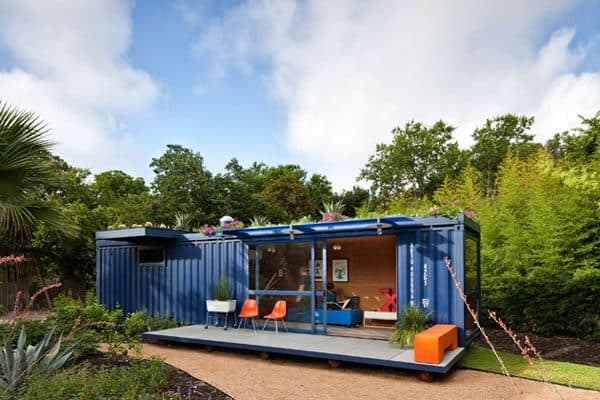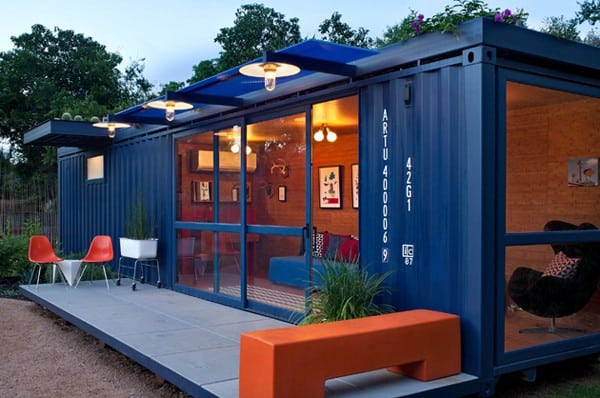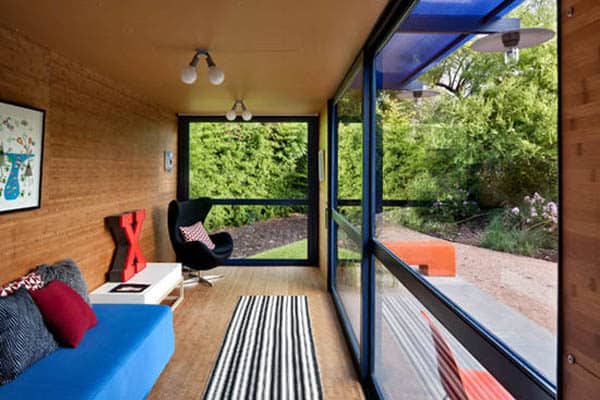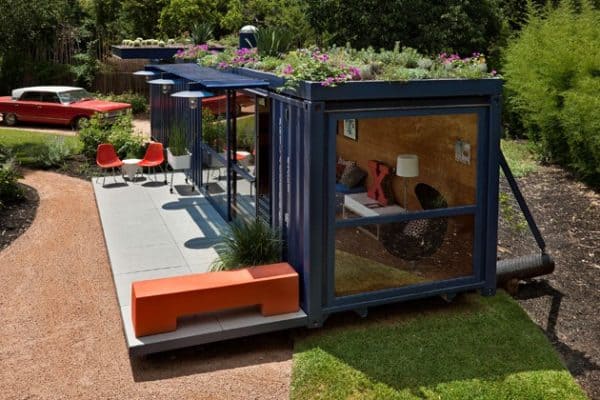 3. Small Scale Beach House
Maybe living in a shipping container full-time isn't your thing, but what about making an affordable vacation home out of one? If you owned this sweet little home with that sort of view, I bet you'd be OK with the occasional weekend getaway. This small home was built by Crosson Clarke Carnachan Architects, based out of New Zealand where this home is located.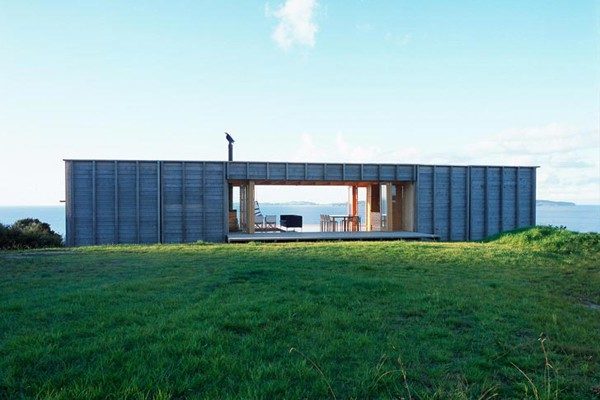 Rough cedar cladding covers the exterior of the home, adding a sense of natural beauty to the container. In fact, without knowing what it was made of it would be hard to say there was a shipping container under that wood exterior.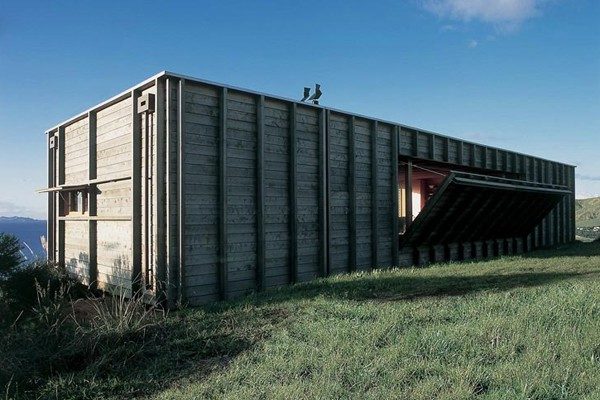 What might be the coolest feature we've seen yet, the series of folding doors that open to provide extra deck space and a view clear through one side to the other – and what a view it is. They also provide added privacy when needed, and keep the home secure when nobody's there or when storms roll through. Inside you'll find a series of well-concealed cabinets, a cozy living area with a fireplace, and a well appointed shower/bathroom.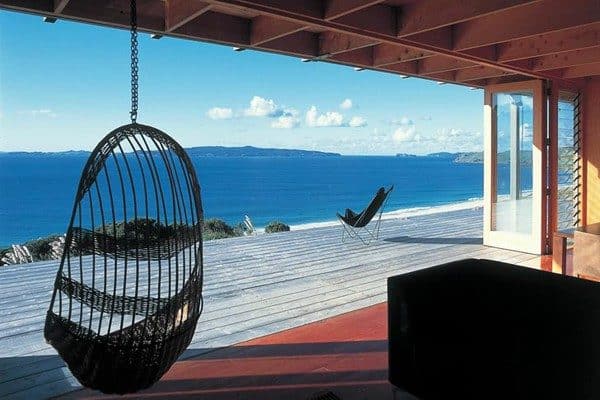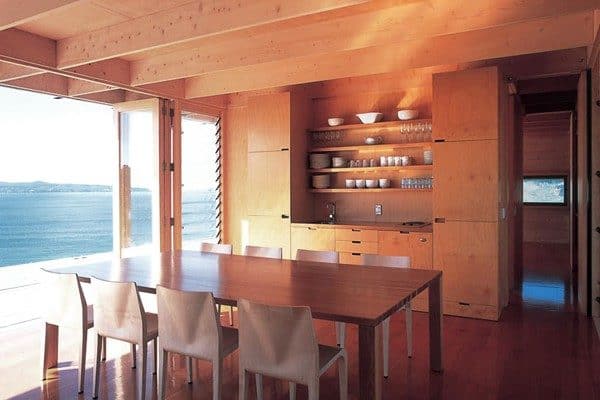 4. The Container Treehouse
A rustic look defines this spectacular treehouse, and you'd never imagine a solid metal shell served as the base for this home. The builder used two shipping containers to make this, covering the exterior with timber cladding to help blend in with the natural surroundings. It can be found just outside Jerusalem and was built by Tel Aviv architects Yaron and Galit Golany.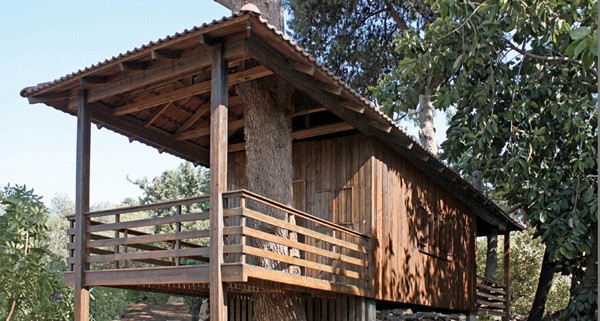 A huge tree extends through the deck of this house into the sky above, and the timber clad exterior features numerous little windows that open up to let in the fresh air.
5. A New Zealand "Holiday House"
Those Kiwis sure have a talent for transforming big metal blocks into cozy little homes. In this case, the architecture firm Atlierworkshop turned a single shipping container into a "holiday house" – what we might call a vacation home in the states. They employed some clever tricks to make the most out of this tiny space.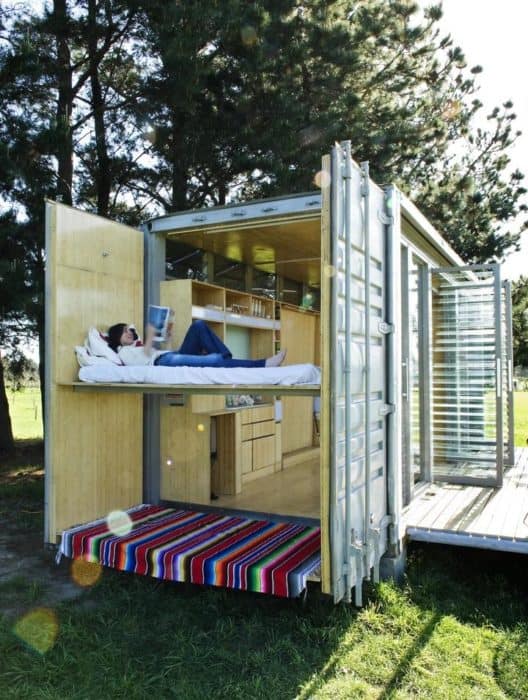 How cool is this? The end opens up, and features murphy-style fold out bunk beds. Perfect for lounging in the sun or taking an afternoon nap.
Above you can see how the side of the home folds out, providing a huge patio to lounge on.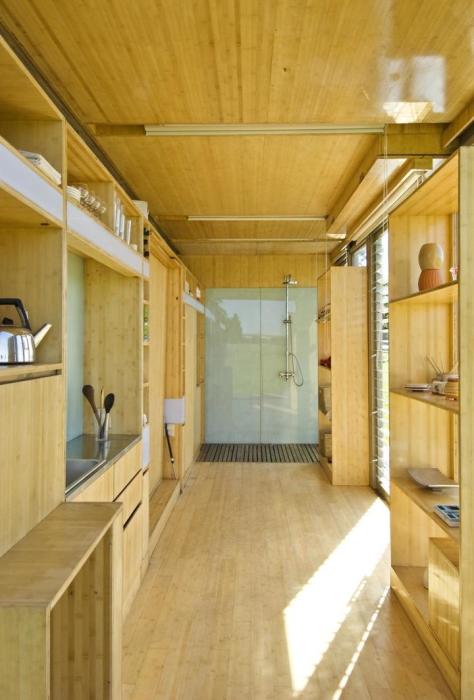 Inside the home they used plenty of wood to bring a natural feel to things. Built-in cabinets make great use of the space and there's even a shower heated by solar power.
If that wasn't cool enough, check out the dropcloths that frame in the patio and sleeping area for a little extra privacy or protection from the bugs.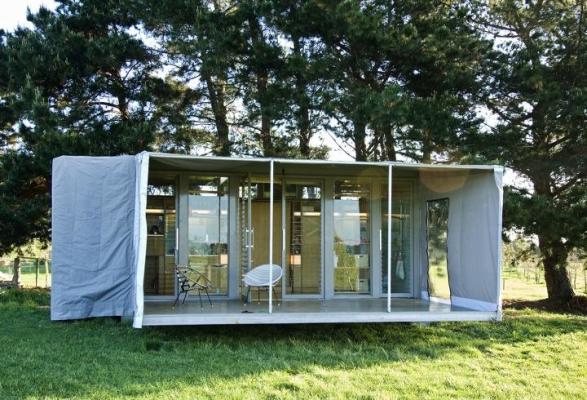 6. Hybrid Architecture & Sunset Magazine Collaboration
When Sunset magazine teamed up with Hybrid Architecture, the result was nothing short of amazing. They build a 192 square foot home that's fully solar-powered. A big deck expands around the structure, with a canopy for shade and doors that swing open on the end to allow the breeze to flow through the inside.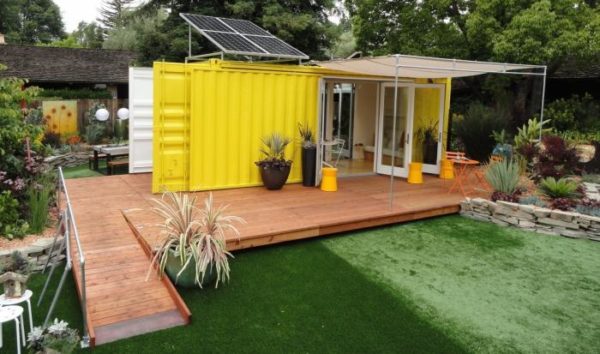 The exterior may look rough, but the inside is well appointed with a small kitchen area and built-in beds. The total cost of a house like this from Hybrid Architecture is around $72,500 – not exactly cheap but certainly affordable in the grand scheme of housing costs.
7. Sri Lanka Holiday Cabana
Another great vacation spot was built by architect Damith Premathilake, who used a spare shipping container along with some old wooden weapons boxes to make this sweet little retreat. Photos courtesy of Logan Photography out of London.
8. Instahouse on the Hamptons
When you think of the Hamptons, images of large beachfront mansions, giant yachts, and high-rolling executives usually come to mind. This container studio built by Maziar Behrooz Architecture puts those images into perspective. Perched on its own little plot of land in the exclusive area, offering a peaceful retreat, this two-story getaway cost about $99k to build – a far cry from the millions that most of the nearby homes sell for.
9. BuildingLab in Oakland CA
When designer Stephen Schoup wanted to create a new office, he decided to use shipping containers as a base for the structure and a new home was born for his company building Lab Inc. The end result is nothing short of stunning, and the design strikes a great balance between industrial and residential appearance.
We love the limited use of wood siding on parts of the exterior, which adds to the character.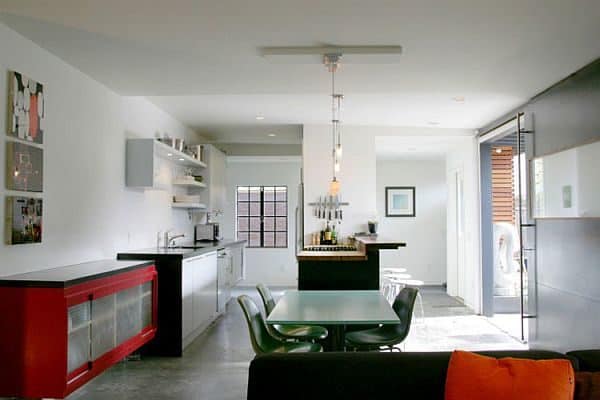 10. Sarah House Utah's Affordable Container Home
Sarah House Utah is a small non-profit organization dedicated to finding affordable housing solutions for low income families. Owner Jeremy White began this venture, and this is the first design they came up with. It employs two 8′ x 40′ containers placed next to each other. An extra wood-framed entry adds a bit of space and dimension to the house, which comes in at 672 square-feet.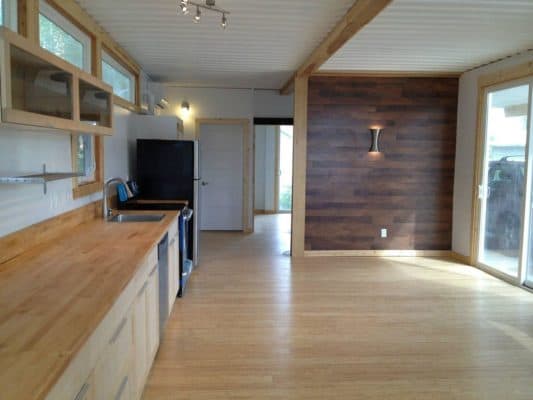 Shipping containers can make a great option for a home, providing a nearly indestructible platform that can resist wind, termites, fire and other forces of nature. With a little creativity and planning anyone can take one of these chunks of metal and turn it into a magnificent place to live. What do you think, could you survive in these spaces?