The world of trailer homes can largely be divided into two groups – regular trailers and "park model" RVs, the latter of which brings higher end finishes and more attractive designs. The luxurious Escape cabin remains one of the most popular posts on our site, and is a perfect example of a high-end park model home, but at $90k+ it costs quite a bit more than what you see here. Today we're sharing another great example courtesy of Rich's Portable Cabins, Inc., a company that's been building tiny houses in Oregon and Virginia for over 12 years. It's operated by founder Rich Daniels, who's developed several dozen floor plans over that time. At 390 square feet, the 12 x 32½ Tillamook Triple Bay is one of the larger ones, and although it's on wheels it's approaching the limits of what you'd consider truly "portable".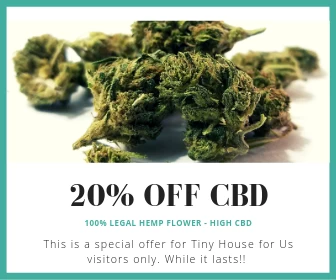 The Triple Bay sports an appearance similar to many tiny houses, the only difference being its larger size. It gets the name from the triple bay windows on the end.
A loft without a ladder – that's a real staircase next to the large fridge.
The bay windows dominate the house, even from the kitchen on the opposite end, while a modern stove accents the living space.
Separate alcoves hold a bathroom sink, toilet, shower stall, and washer/dryer combo.
The loft adds an extra 200 square feet of space. It's as big as many whole tiny house trailers!
A park model RV home is a great alternative to a smaller tiny house on wheels, especially if you don't plan on moving it very often. While it has wheels, the extra width means you'll need to hire a wide-load mover to get it where you want. It's a trade off many are willing to make. With nearly 400 square feet of living space on the first floor plus a 200sf loft, this model offers plenty of room. Of course you're probably wondering about the cost, and I'm happy to report this model comes in around $50-60k, a very reasonable price for what you get. Rich also has a line of eight foot wide wheeled cabins that live up to the company name a little more easily.) The 2013 vintage Tillamook is distinguished from Rich's other larger models by triple bay windows capable of providing some very impressive views from the spacious, wood-finished interior.