It's not too often you look at a tiny house and wonder why it has to have so many windows, but seeing TruForm Tiny's Verve Lux parked on the urban campus of Portland State does get you thinking. The living/kitchen area of the 16-foot THOW are surrounded by huge expanses of glass on three sides, giving passersby an unusually intimate view of the occupants' daily activities – and, absent some really good curtains, nightly activities, because the living room is also the bedroom thanks to an IKEA conversion couch or optional hydraulic lift bed.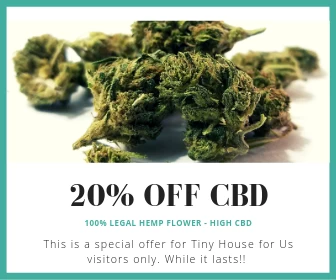 Take it to a less populated, more natural environment, though, and the Verve Lux becomes a thing of beauty, airily uncramped in feel and in fact despite being just 141 square feet all told. All those windows, the open plan, and the uniformly high ceilings of a loftless house account for a lot of that, but TruForm also had a trick up its sleeve: They put the (flush) toilet in an extension over the trailer tongue. That makes room for a bathroom sink – something that often disappears in houses this size – without taking away too much square footage from the main area.
While you might want something larger and more functional for full-time living, the Verve Lux looks like it would be a great little vacation home, and the price is low enough to make that feasible for a lot of people. The unit shown in the photos is for sale at $55,900, but TruForm can build a more basic version for as little as $45,900.
The steel-framed house has a fold-down deck with a detachable awning.
The small dining table is made of padauk wood and has custom welded steel legs.
There's a lot of storage space underneath the couch.
The kitchen is small but fairly complete, with a little counter space between the sink and the two-burner gas stove.
Underneath are a refrigerator and plenty of cabinets.
The bathroom has an attractive hexagon tile floor. The shower stall is to the left in this photo.
h/t Treehugger