If you're tired of paying thousands of dollars each month for rent and mortgage, buying your own tiny house plans becomes an attractive option. Today we take a closer look at the Cypress model from the Tumbleweed Tiny House Company, which remains one of their most popular models. It comes in various lengths from 18′ to 24′ and as usual, all the high quality finish you'd expect from the nation's premier tiny house builder.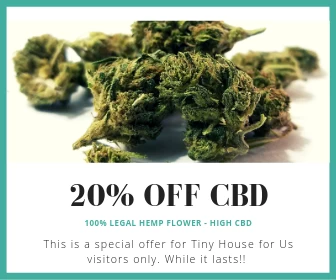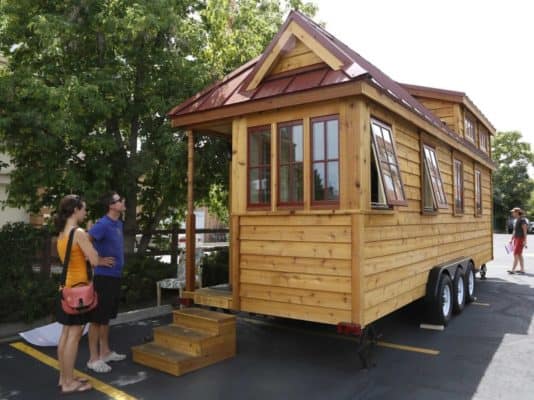 The Kitchen
We love the little kitchen space, which offers just enough counter space to prep, and includes a nice size sink along with open cabinets. Notice the mini fridge/freezer combo neatly tucked away on one end, and the 2-burner stove that sits flush with the counter.
Tumbleweed knows how to make the most of a tiny space, and you'll notice they carved out a spot for the 2-in-1 washer/dryer combo parked under the kitchen counter. Also, check out the stairs to the loft, each with its own drawer space for extra storage.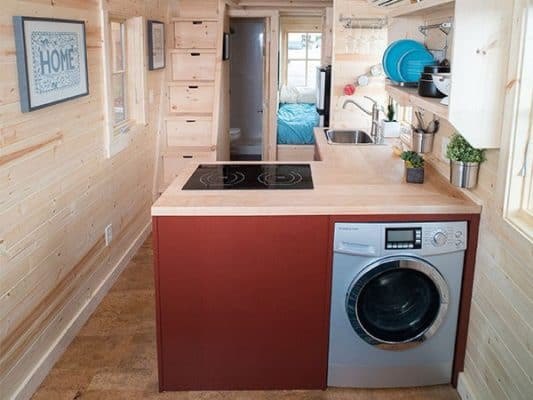 The loft
As a kid I can remember more than one occasion where I woke up suddenly while sleeping in our cabin's loft, only to smash my head on the ceiling. Nobody likes brain injuries, and Tumbleweed takes a nice approach with the loft, using dormers on either side to provide a little extra room.
In addition to a sleeping loft, they also offer a storage loft on the other end of the house. Notice the pull down Murphy bed behind the two chairs as well.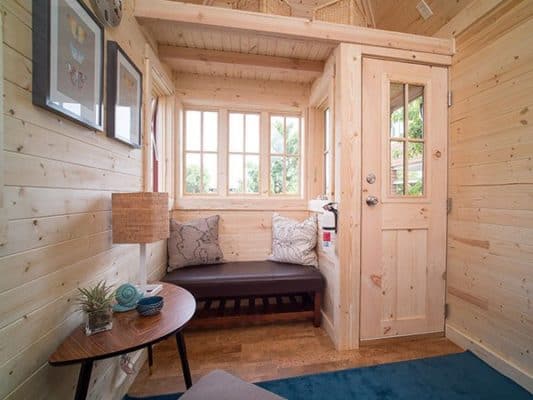 The ladder slides behind the bookshelf . Just another example of the well thought out approach to their designs.
Customization Options Galore
Tumbleweed's tiny houses offer buyers a huge range of customization options. They offer various combinations of exterior shells and interior layouts, some of which include an extra downstairs bedroom. For example, the Cypress shell can accommodate the Horizon and Equator floorplans, both of which include a small bed downstairs and a loft upstairs. Alternatively, you could opt for the Overlook, which only has the loft but has a much larger great room downstairs or the Arise which includes a folding Murphy bed and extra storage space in a second loft.

Above you can see an alternate example of the kitchen setup, with the location pushed toward the back of the house instead of in the middle. That same space can also be used as a spare bedroom.
All models have space for a loft bedroom, bathroom, kitchen, living area and a porch. They're completely fitted out with air conditioners, washer/dryers, and cooking facilities, and the bigger ones even have a full-sized oven and a spare bedroom. As is the case with most Tumbleweed homes, relocating won't be a problem since it's built on a trailer.
Choosing a floor plan is just the beginning. From there you can choose different types of siding, stain, trim and body paint colors, windows, doors, roof materials, flooring, lighting, appliances, cabinets, and storage. The list goes on.
The Cost
Depending on the length you choose, the Cypress can be had in 130, 144, and 172 square foot versions priced from $57,000 to $66,000 for a completely finished version. Expect to pay half that if you want to build one yourself.
Just check out their "customize your Tumbleweed" page to see everything you can choose.
Example floor plans
[vc_gallery type="image_grid" interval="3″ images="4164,4165,4166,4167″ onclick="link_image" custom_links_target="_self"]
To see their other styles and find out more information on tiny houses, visit www.tumbleweedhouses.com.