Upper Valley Tiny Homes is a Utah builder specializing in tinier THOWs like this 128-square-foot Birchwood. The Birchwood is their midsize standard model, between the 90-square-foot Teeny Tiny and the 160-square-foot Crosswinds, although they have done larger custom builds. Besides occupying the smaller end of the tiny house size range, Upper Valley is emphasizing build speed (as little as two weeks) and low cost (the Birchwood starts at just $28,000 fully finished).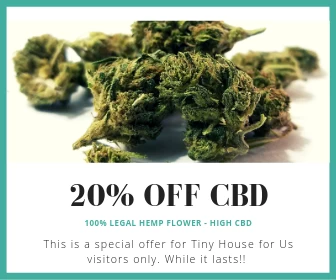 If you're buying an 8×16 house you can't expect unlimited elbow room, but Upper Valley has fit a reasonable bathroom in front, a decent kitchen in back, and a couple of small lofts up top. The middle of the Birchwood, though, is mostly taken up by a closet and a set of spiral storage stairs, which doesn't seem to leave much space for dining or relaxing inside the house. And the storage stairs, while interesting to look at, also seem like they'd be "interesting" to navigate – probably not as practical as the ladder that leads to the other loft. Sacrificing the storage space provided by the stairs in favor of another ladder and a place to put a dining table and a couple of chairs might make this more livable. Alternatively, Upper Valley also offers a 20-foot version of the Birchwood that does away with the closet to result in considerably more free space in the midsection.
h/t Tiny House Talk
2018 update: Looks like this company was as crooked as their stairs – there are multiple complaints online that they never delivered houses people paid for, and both whogotarrested.com and mugshots.com report that owner Michael Tveter was arrested on July 18, 2017, on charges of forgery and theft.