We love seeing homespun designs, and this one is certainly right up there with the best. Like many other tiny house dwellers, Jenna and Sean wanted to simplify their life, adding freedom to roam and enjoy new sights and experiences without being tied down to one spot, a 30-year-mortgage as their anchor. So they decided to design and build the house you see here, using SIPs panels for the walls, and documenting the entire process in detail on their website, which is well worth reading if you're thinking of building your own tiny house.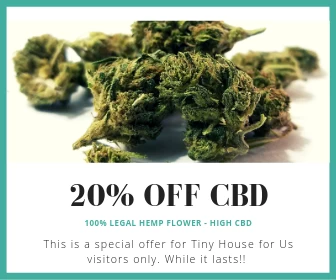 Jenna and Sean share a lot of common interests, and knew they wanted to reduce their impact and keep their bank account in the black. As teachers, they also shared a common summer break, and after settling on the decision to build their tiny house, they had just over two months to make it happen. No small task, but by the looks of it they made it happen.
"We are a twenty-something couple looking to simplify our lives and reduce our impact by living full time in a self-built micro-home. With no prior building experience, we have just two months to complete our house!"

At the end of the day, they spent around $10,000 on materials, not a bad figure when you look at the finished product. Of course, that doesn't take into account labor, but throughout the process they learned plenty of great lessons not just about construction, but determination, teamwork, and patience. There were some things they couldn't tackle themselves, like the plumbing and electric work, for which they hired Cliff and Rusty, who sound like qualified candidates just by their names. 

To see every step of their build be sure to visit http://vagabode.blogspot.de/p/step-by-step.html