Vancouver-area builder Mint Tiny House Company (which began life as Tiny Living Homes) offers three variations of their basic 160-square-foot tiny house built on top of a custom-made 20-foot trailer. The Poco and Cabin in The Woods models both use a similar footprint, while the Napa edition has a dormer roof, offering a bit more room in the sleeping loft. Below you can see their Poco edition and the Cabin in The Woods, which come in under the 8½-foot width limit and 13½-foot height limit, making them suitable for towing. The Poco is wired for 110 volts and has RV-style hookups for water supply and waste disposal, though if you want to live offgrid, a few adjustments could be made.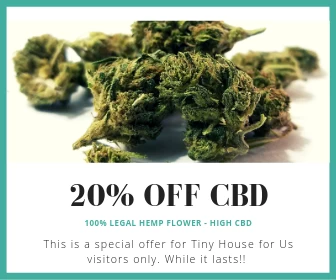 The "Cabin in the Woods" edition seems almost identical to the Poco, aside from a few very small design elements. We aren't sure if the horns on the wall or the cowskin rug are included.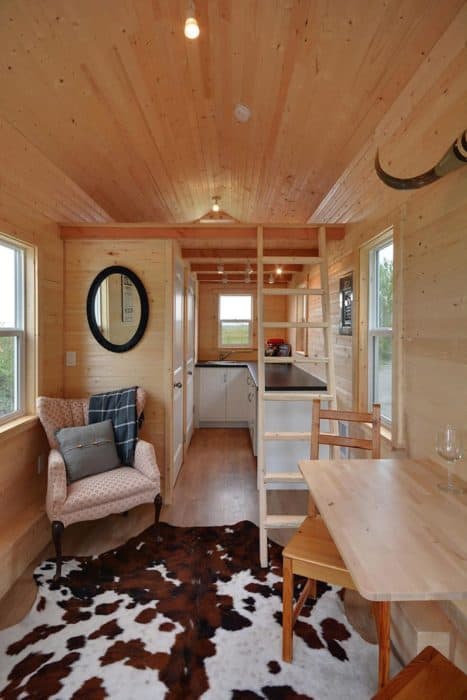 The interior, while fairly simple, is clean and well spaced out; there are 24-inch countertops in the kitchen space, a 30×30-inch shower in the bathroom accessible via a 32-inch entry door, space for a washer/dryer unit in the closet, and loft storage/sleeping at either end made possible by the 10-foot ceilings. Heating and cooking can be electric or propane. There are fully functional sash windows throughout; as for the interior décor, it helps if you like linoleum and pine.
A second smaller loft in the front offers extra space for storage.
Their design approach is simple and straightforward, where the focus centers on build quality. Buyers can work with the company to make further enhancements as needed. They put an emphasis on the value of owning a tiny house like this, and the freedom it allows a buyer to pursue other goals in life. The average person living in Vancouver spends $15k or more on annual rent, and a finished version of the Poco comes in around $45,000(Canadian dollars), the equivalent of about three years' worth rent.
To learn more, visit http://minttinyhomes.com/