Who wants to go through life in a funk? Well, maybe you, after you get a look at Brian Crabb's oddly named but impressively designed Funk tiny house on wheels. With weathered copper and earth-toned vertical elements under a triple roof line, the 254-square-foot Funk presents a unique and intriguing face to the world. The gorgeous modern interior more than lives up to the expectations it raises. Except for their size, the living room and kitchen would hardly look out of place in a brand-new, high-end foundation home. If the attention to aesthetics doesn't quite carry over into the bathroom and loft, those rooms are at least perfectly functional and even roomy by tiny house standards. If you like the Funk, you can have one built for you by Utopian Villas of Oak Creek, Wisconsin, starting at $68,877.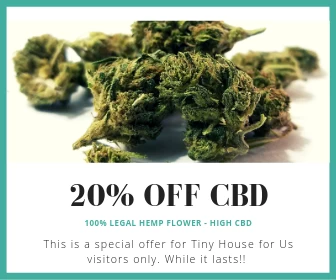 Rows of clerestory windows from Pella leverage the Funk's vaulted ceilings to let in natural light.
The 86-square-foot living room is enhanced by a beautiful ceiling, a glass end wall, and – a rarity in tiny houses – a capacious bookcase.
A comfy sofa, and dining for two.
With counters and cabinets on both sides, plus a deep sink and a full-size oven and fridge, the kitchen should satisfy even the most avid cook.
The bathroom tiles and fixtures feel a little unspectacular in comparison to the finish in the main area, but they're high quality (Kohler), and there's also a washer/dryer in here.
The loft has in-floor storage, a nice way to avoid cluttering things up.
h/t Tiny House Talk